A former north Wales police chief found guilty of historic sex crimes against two young boys has been jailed for 12 years.
Gordon Anglesea, 79, from Old Colwyn, was convicted of one charge of indecent assault against one boy, and three indecent assaults against another at the end of a six-week trial.
There were shouts and cheers from the public gallery as he was sentenced at Mold Crown Court on Friday (4 November).
In attendance were members of his family and former residents of a children's home where one of his victims was abused.
Anglesea's defence team said they would appeal his conviction.
A former superintendent in Wrexham, Anglesea had denied the charges after he was arrested in December 2013 as part of "Operation Pallial" – the National Crime Agency's (NCA) investigation into historic sexual abuse across north Wales.
The prosecution said the ex-police chief had used his position and "connections with authority" to carry out the abuse.
The offences took place between 1982 and 1987, when both boys were aged 14 or 15.
One boy was abused in the showers of a Home Office attendance centre in Wrexham run by Anglesea, where tearaway teenage boys would be given a military-style regime of gym and drill parade sessions.
The trial heard how Anglesea would "inspect" the parade, make the youngsters do naked sit-ups and squat thrusts, then loiter around the showers.
His second victim, now in his 40s, was initially abused by convicted paedophile John Allen while living at the now-notorious Bryn Alyn Children's Home. He told the jury he had been "handed around like a handbag" to other abusers, including Anglesea.
On one occasion, at a house in Mold, he said Anglesea "grabbed him by the hair", indecently assaulted him while calling him "scum", and told him he had the "power to send him away" if he told anyone.
Judge Walters told him during sentencing: "You do not need me to say that as a person whose obligation it was to uphold the law and protect the vulnerable, your offences against those vulnerable boys grossly abused the trust placed in you.
"The consequences for them has been profound, indeed life changing."
Roy McComb, NCA Deputy Director for Specialist Investigations, said: "Gordon Anglesea abused children who should have been safe in his presence and caused lasting damage that only his victims can truly know and understand.
"They have shared just some of that impact with the court during the trial. I believe the sentence of 12 years imposed by this court today reflects the serious abuse of trust that Gordon Anglesea perpetrated in order to facilitate his sexual offending."
Witness took own life 'because nobody believed him'
For 25 years, Gordon Anglesea has been dogged by allegations of sexual abuse. "I deny any sexual assault or sexually inappropriate behaviour," he told the police ahead of his trial.
Born in Flint in 1937, he bore a large birthmark on the left side of his face. It was to prove crucial in his identification by victims years later.
Suspicions around Anglesea were raised as early as 1991 when he was asked by a journalist about his connection to the Bryn Estyn boys' home in Wrexham – a place later exposed for widespread child sexual abuse.
The same year he resigned from his post in the police suddenly and without explanation, after 34 years of service.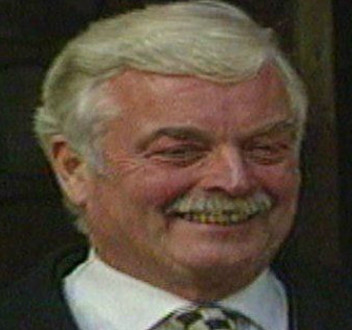 The Independent on Sunday, The Observer and Private Eye all went on to publish articles detailing claims about Anglesea's visits to the Bryn Estyn home as witnesses spoke out about abuse. HTV Wales also ran a television programme.
But what was supposed to bring justice and closure to his victims instead resulted in them being branded liars.
In 1994, Anglesea sued all four media outlets for libel over the allegations they printed or broadcast. He won his case and was awarded £375,000 in damages.
Standing on the steps of the Royal Courts of Justice, he said at the time of his victory: "I have been vindicated, my reputation is restored."
It's taken his victims more than two decades for their own stories to be vindicated, and their own reputation to be restored.
Editor of Private Eye, Ian Hislop, said Anglesea's eventual conviction last month was a "grim satisfaction" that one witness, who spoke to his magazine in the 1990s, would never live to see. He later took his life, Hislop said, after telling his wife that he never got over "not being believed".
"It is a miserable story and it was one of the darkest periods of my editorship," Hislop said of the magazine's investigation into Anglesea. He said Private Eye won't be seeking to get the £80,000 they paid out to Anglesea, saying: "Others have paid a far higher price."
While Anglesea was convicted of sexual assault against two victims, the disgraced former police chief could face further criminal charges, with other witnesses alleging they too were abused by Anglesea – something he denies.
Operation Pallial (source: National Crime Agency)
Operation Pallial is the National Crime Agency investigation into north Wales child sex abuse.
Nine people have been convicted of abusing children in care so far, including Anglesea, while eight have been acquitted.
This includes care-home owner John Allen, who was sentenced to life imprisonment in December 2014.
A network of five men were sentenced to a total of 43 years in prison in September 2015 after being found guilty of 34 offences. The investigation is ongoing.
The operation has so far been contacted by 352 people, with 51 men and women arrested or interviewed under caution. Some 32 suspects are believed deceased.
Some 73 complaints remain under investigation.