Rockstar has announced a host of exciting recreational activities and game benefits as part of the Business Weekend Social Club event for Grand Theft Auto 5 (GTA 5) Online, which is scheduled to kick off at 4pm EST on 7 March and close on 9 March.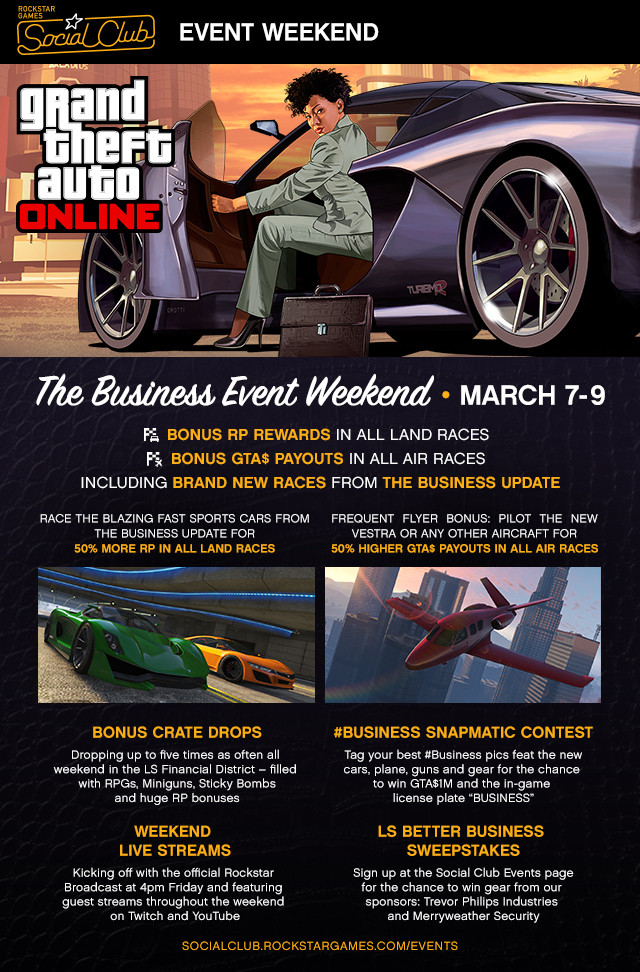 The Business Weekend event puts gamers through a spate of new challenges including Land Races with high-end cars, Air Races with the new Vestra jet plane and the high-priority vehicle job with Ocelot Jackals for an overwhelming GTA$ boost.
In-Game Rewards and Bonuses up to GTA$1m (million) and 8000RP
Compete for supremacy with new blazing fast cars, Vestra aircraft and high-powered weapons, which are accessible via recently released Business update and win special in-game rewards and bonuses right through the weekend. Check out the complete list below:
Win up to 50% more RP in all Land Races by showcasing your expert driving skills with the new super-sports cars: Albany Alpha, Dinka Jester and Grotti Turismo R.
Get 50% higher GTA$ payouts in all Air Races: a big flyer bonus for those who love to rule the skies of Los Santos.
Participate in the High Priority Vehicle mission as Ocelot Jackals are put on the wanted list. Read Simeon's text message, grab the car and fight your way back to the docks to complete the mission and give yourself a whopping GTA$ boost.
Make good use of Bonus Event Crate Drops falling from the sky in the downtown financial district of Los Santos as well as around the airfields of Los Santos and Blaine County. Upgrade your arsenal with a bunch of powerful weapons stuffed into the crates including RPGs, Miniguns, Sticky Bombs and secure up to 8000RP in every crate.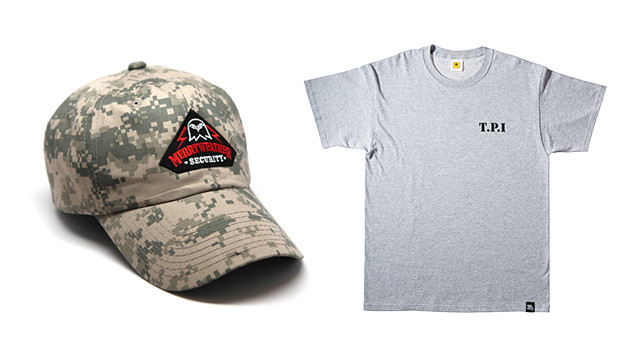 In addition, GTA Online gamers are invited to participate in the Los Santos Better Business Sweepstakes to be chosen among five lucky winners to take home a rare Trevor Philips Industries T-shirt and Merryweather Security Camouflage Cap, besides a unique opportunity to earn up to GTA$1m and the exclusive 'BUSINESS' vanity plate as part of #Business Snapmatic Contest.
The Snapmatic contest will select five favourites among the best GTA 5 in-game shots submitted between 7 and 9 March that includes most creative, most wonderful and most marvellously composed moments featuring any of the new cars, guns, aircraft, gear or Jobs from The Business Update. Check out the complete rules and eligibility details here.
Rockstar Event Weekend Live Streams
Rockstar has officially scheduled the live stream broadcast for Business Weekend Event from 4-6pm EST starting 7 March with two hours of mayhem, hijinks and playthroughs of the new Business Update Jobs and gear.
The live stream broadcast is expected to continue through the weekend (Saturday and Sunday) along with some specially featured streams from reputed Crews on Twitch and YouTube to keep the audience entertained. Check out the complete list of live streaming services below:
a) Garrett Sutton (aka RedRobinz) of the JoblessGamers Crew
Streaming at 4PM ET on Saturday March 8th and Sunday March 9th
b) DomIsLive of the Devastation Crew
Streaming at 3PM ET on Saturday March 8th
c) HikeTheGamer of the LANDED IT Crew:
Streaming at 3PM ET on Saturday March 8th and Sunday March 9<sup>th
d) Mattophobia and SuperM737 with The Procrastinators Crew:
Streaming at 2:30PM ET on Saturday March 8th
e) Spamfish of The Melted Fridge Crew:
Streaming at 9AM ET on Saturday March 8th and Sunday March 9th
For further information on live streaming services and event reminders log into Twitter live feed from Rockstar.
[Source: Rockstar Newswire]