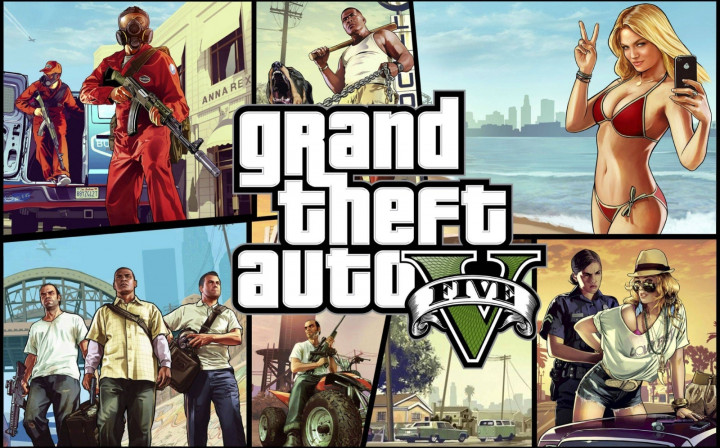 Avid fans of GTA 5 are in for a special treat as discerning GTA 5 tipster, DomisLive (aka Dom), has revealed some interesting titbits on the upcoming DLC releases for the game as well as the next instalment of Grand Theft Auto (GTA 6) which is reportedly under development by Rockstar Games.
The tipster has picked up the best ideas yet from discerning fans of GTA 5 and his own followers on Twitter to formulate the seventh edition of the QnA series via YouTube that sheds more light on the upcoming DLC releases.
Here are excerpts of the QnA that reveal more details on forthcoming DLCs such as Heist, Pets, GTA 6, Street Racing and more:
Possibility of Rockstar Importing Characters of GTA 5 into GTA 6
First of the lot is a query about the possibility that Rockstar would import all the legendary GTA 5 characters into GTA 6.
Dom hints that there is a big possibility of CJ being part of GTA 6, although the game world in the next iteration might be changed entirely instead of being based on the suburbs of Los Santos.
Favourite Locations and Protagonist for GTA 6
Another avid fan of GTA 5 is curious to know the highly favourable locations for GTA 6 as well as its main character.
Dom replies that CJ would be an ideal candidate for the protagonist role in GTA 6, while he prefers a select few locations for the game world in the next instalment. The tipster admits that some of his favourite locations would be Los Santos, Texas, Miami and Las Vegas.
Dom adds that he would love to see GTA 6 game world based on Las Vegas as it could bring the highly-rumoured Casino DLC into the game.
Will Rockstar Ever Release Pets DLC?
This one is a big question, as discerning gamers have been longing for the ability to train and domesticate pets in GTA Online.
The tipster explains it is quite unlikely that Rockstar would introduce Pets DLC in the online version of the game as it would change the way the game is being played and provide undue advantage to people who trained their pets to attack or kill their rival players.
Possibility of Rockstar Creating More Buildings with Interiors Like Burgershot in GTA 4 or Clubs
Responding to another fan query, Dom admits that Rockstar would definitely come up with new buildings such as Burgershot and restaurants as well as some sort of a Comedy Club with visually appealing interiors in GTA Online.
What Actually Inspired Dom to Start a YouTube Channel for GTA 5?
The tipster reveals that he started doing YouTube videos from January 2013 as he was an avid fan of Call of Duty and wanted to report back on some of his interesting findings during the gameplay.
Later, he went about contributing his knowledge and experience with GTA 5 gameplay, owing to the huge fan following and support he got from the GTA community.
Custom Interiors for Cars, Boats and Airplanes
Dom agrees there is a definite possibility that we could see some custom mods for overhauling the interiors of Cars, Boats and Airplanes in GTA 5, which means we might actually have to wait until the re-mastered edition of GTA 5 releases in the Fall.
On the contrary, the tipster denies any possibility that Rockstar would release custom interiors as part of forthcoming DLCs for GTA 5. Instead, avid gamers may have to depend on third-party mods once the PC version comes out in September or wait until the release of GTA 6.
Professional Programs for Recording GTA 5 Gameplay and Editing Videos
The tipster shares some useful tips about the video recording software and tools he uses for posting GTA 5 gameplay tips and tricks, glitches and rumours via his YouTube channel.
Dom mentions some Ocado software for recording his videos which costs $150 and the program used for editing videos would be Sony Vegas Pro which is priced around $500 to $600.
Expected DLCs After Casino and Heist DLC Releases
Among the top DLCs rumoured so far, Rockstar is expected to unleash one of Zombie DLC, Pet DLC or Street Racing DLC with a bit of interior customisation and NOS (Nitrous Boost) for GTA Online.
Dom as Voice Character or Online Character or Easter Egg
One avid fan of Dom asks if he (Dom) would like to be part of GTA 6 as a voice character or online character or an Easter egg in the future creation of Rockstar.
Dom answers that he would prefer being an Easter egg, as voice acting would take up a lot of his time and effort while keeping him away from uploading GTA 5 content two times a day.
The tipster concludes he would love to be part of GTA 6 in one way or the other by taking up any opportunity that Rockstar would throw at him including a stint as a Janitor.
Dom's Official Website - DomisLive.com
Dom gives away some interesting news for his fans and the GTA community that his official website would go live on Tuesday, 12 August, which is the same day when the next DLC would come out for GTA 5.
Check out more interesting details about weather mode, tips to become a YouTuber, betting on horses with Casino DLC and more in the video below: