There is some great news for prospective GTA 5 next-gen gamers as renowned YouTube tipster DomisLive (aka Dom) hints at the possibility of gamers playing GTA 5 next-gen two weeks ahead of the announced release date.
Dom points to a recent report on the gaming website, Game Plane.de, which talks about pre-order availability for GTA 5 next-gen for a short while in Europe, before the product listing was taken down for some reason.
In an earlier leak, IBTimes UK discussed about the various rare DLC unlockables and the exclusive money bonus intended for the early birds who pre-order GTA 5 next-gen via PlayStation store and other online gaming retail outlets.

Coming back to the latest report on GTA 5 next-gen availability, it is ascertained through the leaked screenshots (above in German language) that some undisclosed sources got an early access to download the re-mastered edition of GTA 5 on PS4.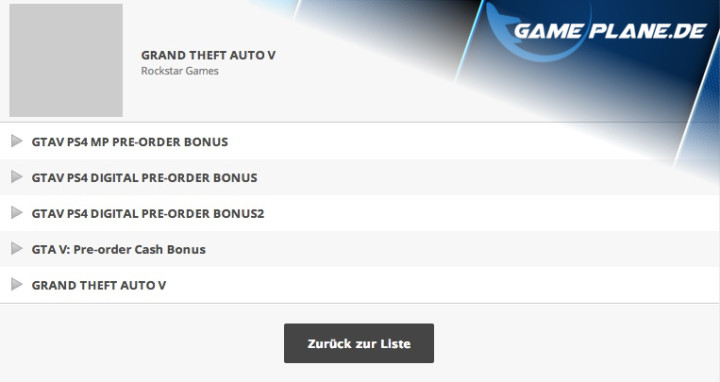 According to folks at Game Plane.de, they were able to view the listings (see screenshot above) for more bonuses with the digital pre-order of GTA 5.
The website adds that it was not possible to identify what the bonuses actually meant for gamers as it consisted "just the normal bonus and two more specials."
It is still unclear if this is an error on the part of Sony or if Rockstar Games is secretly holding back some surprise for the PS4 gamers by releasing the game earlier than the official schedule, as one glance at the leaked pre-order listing for GTA 5 confirms the game would be available from 4 November on PS4 platform.
This claim is further strengthened by the fact that prospective GTA 5 next-gen gamers would be eligible for early pre-order bonus only if they pre-ordered the game before 3 November.
In other words, it could mean GTA 5 next-gen could be well on course for an early release on 4 November, following the pre-order window.
As always, the leaked information seems to be too good to be true and we just hope that it does not turn out to be a fake.
Do you think the early release speculation for GTA 5 next-gen on PS4 is true or fake? Please leave your comments below.