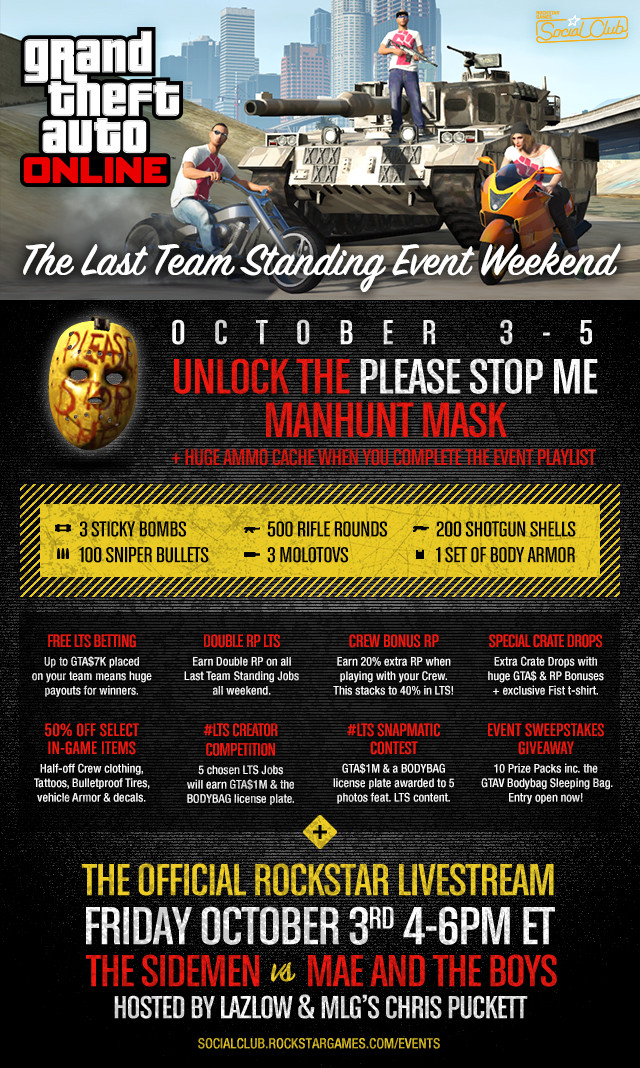 Rockstar Games has announced an Event Weekend bonanza from 3 October (starting 4 to 6pm ET) through 5 October midnight to celebrate the release of its highly-anticipated DLC, The Last Team Standing (LTS) for GTA Online.
The Event Weekend features exclusive weekend-only unlocks, limited period only GTA$ and RP bonuses, special contests and an exclusive live-streaming event by Rockstar that spans through the course of this event.
You can take part in the 10 new jobs from The Last Team Standing Update or create new jobs on Rockstar Social Club using LTS Creator Mode, reports Rockstar Newswire.
Free Exclusive Unlockables and Ammo Rewards
Winners of the event with 100% completion rate (including 5 brand new 16-player LTS jobs from the LTS Creator update) will be eligible for free unlockables such as 'Please Stop Me' Manhunt throwback mask as well as free supply of ammunition and incendiaries to help them in their next battle against the enemy.
Equip yourself with an arsenal of ammo and powerful explosives following your victory as you may want to spill more blood. Here is everything you might need:
3 Sticky Bombs
3 Grenades
3 Molotovs
100 Sniper bullets
200 Shotgun shells
500 Rifle rounds
1 Body Armor
To take part in any of these events, just choose the Event option via GTA 5 loading screens or locate the Last Team Standing Event Playlist via Rockstar Playlists section found on the GTA Online Start Menu.
Earn Double RP with LTS and Creator Jobs, and Bonus RP with Crewmates
Enjoy double RP for all LTS jobs including original fan favourites such as Cypress Flats LTS or Beacon Theater LTS as well as gamer-created LTS jobs in Creator mode for the event playlist featured for the weekend.
Gamers can also enjoy extra bonus RP up to 20% while playing LTS missions with Crew members. The stakes are much higher this weekend especially given the Double RP bonus feature with LTS update which translates to 140% more RP over standard version with Crewmates onboard.
Free LTS Team Betting Stakes and Big GTA$ Payouts for Winners
Rockstar has raised the betting cap on all jobs to $10,000 for the Weekend Event, while the betting stakes go up to $7,000 for every player participating in the LTS event including those in the playlist.
You stand a chance to earn bigger payouts based on the number of rounds fixed for a particular job and your success rate with betting on your own team.
50% Discounts on Crew Clothing, Tattoos and Vehicle Mods
Gamers are encouraged to enjoy new Crew clothing, Tattoos and Vehicle Mods at exclusive half-price rates to ensure solidarity and loyalty among the crew members in GTA Online.
Suit up your crewmates in matching team outfits with unique colours and emblems to represent your brotherhood or sisterhood, besides customising your crew vehicles with custom paint, body armour, bulletproof tyres and tyre smoke at 50% discounted price.
Bonus Special Crate Drops Containing Exclusive Fist Tee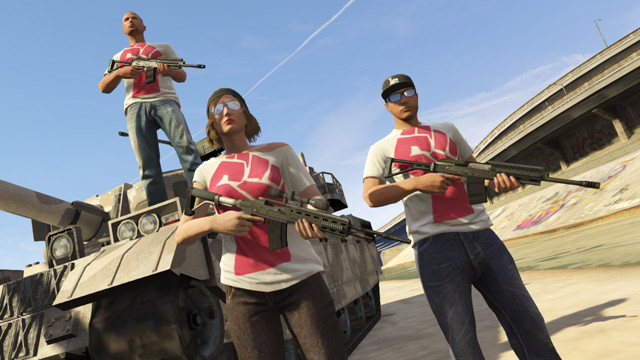 Rockstar is offering bonus special crate drops featuring GTA$ stacks, RP, heavy duty RPGs, miniguns, sticky bombs and exclusive limited-edition Fist Tee (for the weekend event only) in Freemode during LTS weekend events.
Avid GTA 5 gamers are advised to lookout for one such special crate drop during every session through the weekend event in GTA Online from 3 October to 5 October.
LTS Creator Competition, Snapmatic Contest and Event Gear Giveaway Sweepstakes
Veteran GTA gamers are invited to create a unique job that stands a chance to win the Creator competition at this week's LTS weekend event in GTA Online.
Once you have uploaded your best creation with the #LTS tag via your job profile on Rockstar Social Club, you will stand a chance to win GTA$1m and an exclusive BODYBAG in-game licence plate, if you are chosen to be one of the lucky five contestants in the competition.
Tag your best snapshot yet in LTS update for GTA Online via Social Club with #LTS and you could fancy your chances of winning GTA$1m and the BODYBAG license plate for your in-game vehicle.
Top five most amusing, exciting and stunning Snapmatic photos will stand a chance to win the coveted award. Note: You could enable this feature by double-tapping Up on the D-Pad to perform a Snapmatic quick launch via game menu.
Enter Rockstar's Giveaway sweepstakes via Social Club Events page and win one of 10 official GTA 5 Bodybag sleeping bags, a GTA 5 logo Tee and a selection of Rockstar stickers for your next camping trip collection.
Watch Rockstar's live-streaming for the Last Team Standing event on internet via the game developer's Twitch channel, YouTube channel, the Social Club Events page as well as at MLG.tv/Rockstargames.