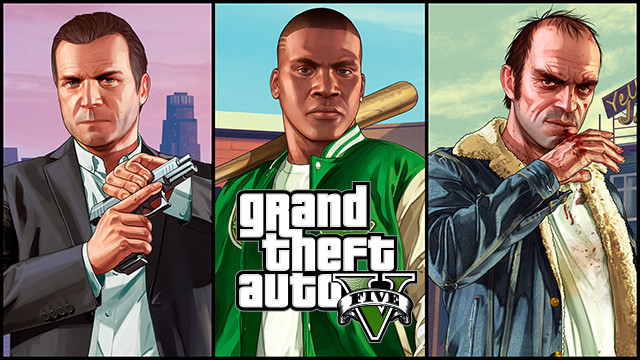 Avid GTA 5 gamers are eagerly awaiting the release of Heist DLC as part of the 1.17 title update for GTA Online, while discerning YouTuber DomisLive (aka Dom) answers some of the most intriguing fan queries in his eleventh edition of QnA series.
Some highlights of the latest QnA video from Dom include details of upcoming Cops n Crooks DLC, PS4 vs Xbox One gameplay for GTA 5 and everything else regarding the impending release of 1.17 update.
Xbox One vs PlayStation 4
First up in the list is a fan query about choosing between Xbox or PlayStation console and Dom's personal preference for the same.
Dom clarifies that he would definitely opt for the PS4 as his primary console for the obvious reason of getting exclusive content, once the re-mastered edition of GTA 5 comes out in November.
The other big reason for choosing PS4 is due to the fact that the majority of Dom's subscribers would be owning Sony's next-gen console, while the Xbox One seems to be having a relatively smaller user-base right now.
Besides, he would like to make the Xbox One as his secondary console, while he would be phasing out Xbox 360 and PS3 from his lineup as he apparently faced issues with recording videos, streaming and communication hiccups with his subscribers during GTA Online gameplay.
Is Recently Leaked MultiPlayer Last Team Standing (MPLTS) DLC Related to Cops n Crooks?
One fan query points to a probable link or relation between the recently leaked MPLTS DLC and the forthcoming Cops n Crooks missions for GTA Online.
Dom asserts that the Last Team Standing DLC could indeed be based on the gameplay elements involved with Cops n Crooks missions as the leaked DLC info has invariably linked to previous leaks in the past.
Consequence of Rockstar Not Releasing Heist DLC on Current Gen Consoles (Xbox 360 and PS3)
Answering a fan query about Heists being limited to Next-Gen consoles, Dom clarifies that the Heist DLC will indeed be released on both current and next-gen consoles as Rockstar is unlikely to disappoint its existing users, given the fact that Heist DLC has been overdue since the release of GTA 5 in September 2013.
The Possibility of Spreading Infection Glitches or Mods to Next-Gen Systems
Dom reassures that the next-gen systems including the PC would incorporate a stronger security mechanism, which would make it difficult for hackers and modders to introduce any glitches or infections at the moment in the re-mastered edition of the game.
However, there is no denying that hackers might find a way to compromise the system security using some third-party tools in the distant future.
The YouTuber concludes that Rockstar has a big task on hand as the game-breaking glitches and mods need to be fixed quickly in order to prevent gamers from moving away or seeking alternate prospects for online gaming.