GTA 5 Online DLC: Ill-Gotten Gains update (Part 2) - Hidden features and secrets revealed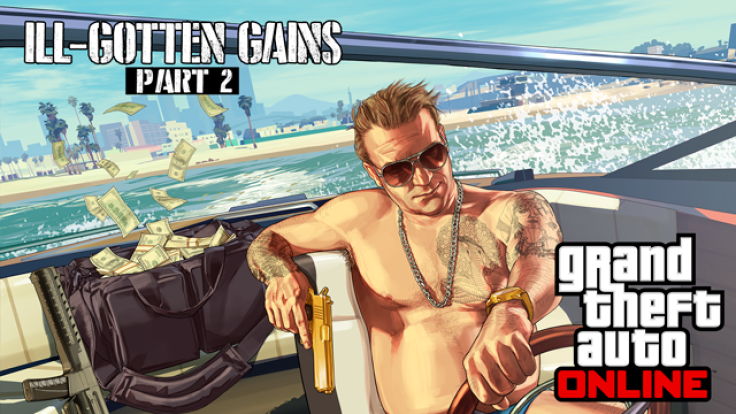 Rockstar Games has recently rolled out the highly-anticipated second instalment (Part 2) of the Ill-Gotten Gains DLC with a handful of exotic super cars, luxury speedboat and stylish clothing, besides a bunch of secret items hidden inside the new 1.28 title update for GTA Online.
Meanwhile, renowned YouTubers DomisLive and MrBossFTW have revealed some of the most fascinating secrets hidden inside the new DLC update, via their latest gameplay videos for GTA Online.
As Dom admits in his video, Rockstar has added a couple of new music horns including Classical Horn 8, Classical Horn Loop 1 and Classical Horn Loop 2, which can be accessed or upgraded on your car via the Los Santos Customs (LSC) garage in GTA 5.
Among other secret features, the new Progen T20 sports car comes with a movable spoiler that can be lifted up or down as well as tilted back and forth (watch video), whenever you hit the brakes on the car.
Next up in the hidden features list is a set of special hats that can be tried and acquired for free from the popular clothing store, Ponsonbys, in GTA Online.
To be precise, these are the special beer hats from the Independence Day DLC (obtained via crate drops during event weekends) and the list includes Supa Wet beer hat, Blarney's beer hat, Patriot beer hat, J Lager beer hat, Benedict beer hat and Pisswasser beer hat.
As these beer hats fall into the rare items category, it's a welcome addition to GTA 5 as it helps to enhance the replay value of the game.
Another key hidden feature ported into the new DLC update is the ability to create races at the Airport and the Military base.
Basically, the game maker has now enabled user-created races around Airport and Military base in GTA Online, in addition to the existing Rockstar-created races.
In related news, another popular YouTuber MrBossFTW explains some good and bad things that were not mentioned on Rockstar's Newswire, concerning some of the most intriguing secrets and hidden features found in the 1.28 title update aka Ill-Gotten Gains DLC (part 2) for GTA Online.
Here are a few of those funny yet intriguing secrets found in GTA Online, following the release of 1.28 title update:
The Marksman pistol cannot be used while driving a car in GTA Online, which is one of the weirdest hidden features ported into the second instalment of the Ill-Gotten Gains DLC update.
You are going to pay a staggering price of $27,500 if you deliberately or accidentally blew up someone's Progen T20 with a sticky bomb or gunfire in GTA Online. In other words, it makes the Progen T20 the most expensive car in terms of the accident penalty imposed on insurance claim made on the car's repairs and replacement.
In line with Dom's proposition, MrBossFTW also adds that the special beer hats are now available for free via binco clothing stores in GTA Online, which could be some kind of a glitch or bug in the code as this is entirely unexpected and not officially announced by Rockstar. It is not yet clear if this is some kind of an Easter-egg or actually a bug gone unnoticed by Rockstar's developers.
The other weird glitch making waves in the GTA Online community pertains to the non-functional roof-lights and the lights on the bumper of the new Coil Brawler car that was recently released with the Ill-Gotten Gains DLC (Part 2).
MrBossFTW also reveals that there are widespread rumours floating around the forums suggesting that we could use any sub-machinegun in addition to the mini-sub in the car or while driving any other vehicle in GTA Online.
In order to test the validity of the rumour, the YouTuber has reportedly purchased all kinds of sub-machineguns from AmmuNation and tried using them while driving a car. However, it is ascertained that the glitch simply does not work.
© Copyright IBTimes 2023. All rights reserved.