Rockstar Games has just released the highly-anticipated Executives and Other Criminals DLC for GTA Online across all current-gen gaming platforms including PS4, Xbox One and PC. As its name implies, the new DLC offers some innovative ways of making money in GTA Online such as hiring your own bodyguards to carry out criminal operations in Freemode, besides new VIP abilities for setting up and running a criminal organisation.
The new DLC also introduces a fresh collection of Stilt Houses and Penthouse apartments with fully-cutomisable interior styles, a new upgradeable super yacht with support staff, new armoured vehicles and two new weapons.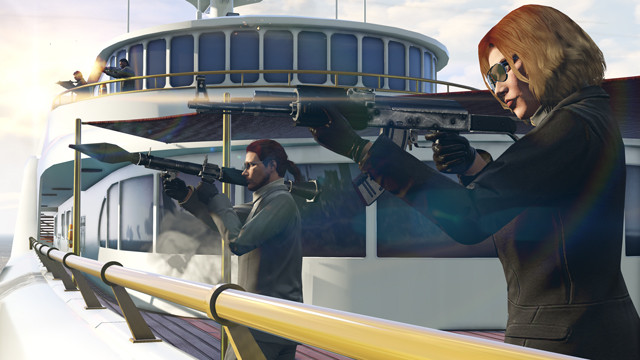 GTA Online players with excess of GTA$1m in their Maze bank account are eligible to become a VIP member or leader of an organisation. VIPs can create a name for their organisation, hire up to three other players for their team as bodyguards through the new SecuroServ menu in the player interaction menu.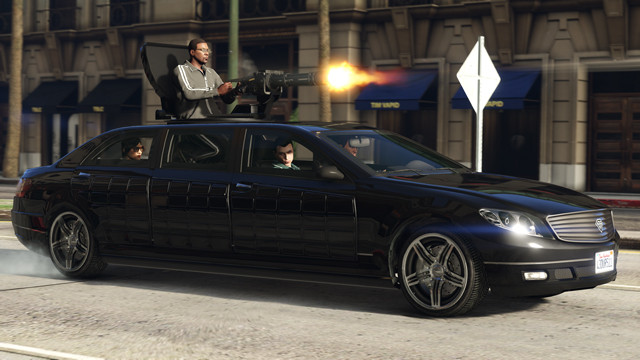 VIPs can enjoy the privilege of some special abilities such as ordering new armoured vehicles such as the Benefactor Turreted Limo, Enus Cognescenti or the Gallivanter Baller LE for combat support. Each of these business-class vehicles come with bullet-resistant glass.
Prospective players who are looking for a bodyguard job will have to wait for invites on the SecuroServ in-game phone app after setting their status as "looking for work" on the game's interaction menu.
Once a bodyguard has joined any organisation, all his earnings in Freemode events and activities like bounties or hold-ups will be credited to the VIP's bank account. In return for the income generated, bodyguards will receive regular benefits like accelerated health regeneration, frequent RP bonuses and stat boosts when in the vicinity of the VIP.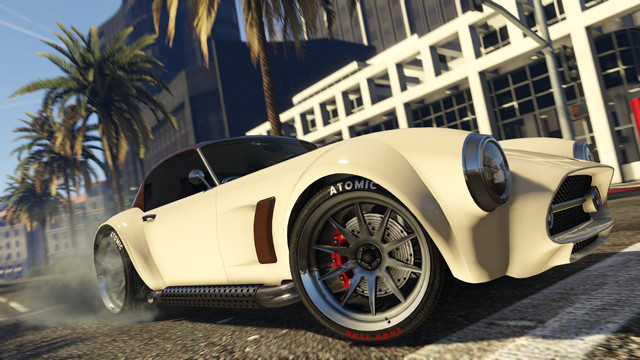 The new DLC also introduces a bunch of new game modes and challenges known as VIP Work and VIP missions, which can be hosted directly from any VIP's interaction menu. Here is the complete list of missions and challenges:
VIP Work
Hostile Takeover – A group of organisations compete to secure a secret package held within a restricted zone such as the military tank held inside the Fort Zancudo.
Asset Recovery – VIP and his bodyguards are assigned the task of recovering impounded vehicles from nearest Los Santos Police Department (LSPD) stations in the city and deliver them to the designated locations, before the time runs out or the impounded vehicles get destroyed.
Piracy Prevention – In this game mode, the host team defends the Super Yacht from being attacked by rival players, while the attacking team tries to use boats, helicopters and seasharks to capture the upper deck of the Yacht.
Executive Deathmatch – Each VIP gets only 10 lives in this freemode survival match between rival organisations.
VIP Challenges
VIP challenges will pit members of the same organisation against each other in a bid to prove their skills and supremacy across six different challenges:
Most Wanted: All members of the organisation will face a 5-star wanted level lasting for about 10 minutes. The last man to stay alive at the end of the countdown wins the challenge.
Market Manipulation: The challenge requires players to race across open convenience stores in a hold-up spree to gather large amounts of cash. When the timer stops, the player with the highest amount of stolen cash wins.
Auto Buyout: Competing players are required to deliver as many high-value vehicles as possible, before the timer runs out. The player with the highest-valued vehicle deliveries wins the challenge.
Check out a bunch of other new features as reported on Rockstar's official blog (below) including the prospect of buying out your fifth apartment with the privilege of choosing between stilt houses, custom apartments and fully upgradeable yacht:
10 Stilt Houses are now for sale around Vinewood Hills, each equipped with a 10-car Garage and a Heist Planning Room
3 Custom Apartments for sale in Eclipse Towers, with 8 customizable themed interiors
10 new cars for sale, including a Turreted Limo and 6 new executive vehicles with armored variations
2 new helicopters – SuperVolito and SuperVolito Carbon
2 new weapons, the Heavy Revolver and Switchblade, each with VIP and Bodyguard variants
Players will now have the ability to purchase a fifth Garage or Apartment
New clothing and accessories, including Robes, Smoking Jackets, Pyjamas and Swimwear
You can now choose from three different variants of Super Yacht, depending upon your needs and budget constraints: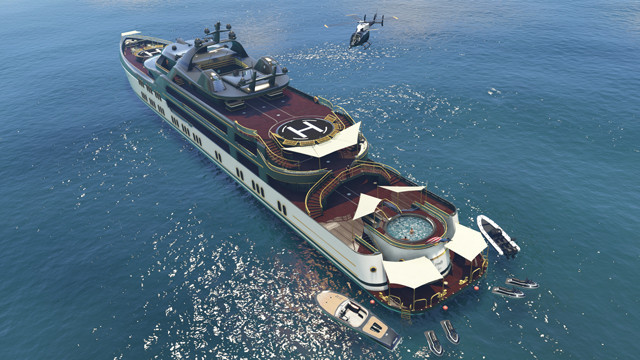 The Orion – $6m
The Pisces – $7m
The Aquarius – $8m
The Orion offers you a Shitzu Tropic, Speedophile Shark and two new water-craft, as complimentary assets at no extra charge.
The Pisces brings you a Buckingham Swift helicopter worth $1.5m for one of the two helipads, a Pegassi Speeder, two Speedophile Seasharks and a Nagasaki Dinghy as the complimentary goodies.
Finally, the top-end Aquarius comes with the new Buckingham SuperVolito Carbon helicopter worth $3.3 million, the Lampadati Toro, Nagasaki Dinghy and four Speedophile Seasharks, which are a big bang for your buck.
Heavy Revolver with Bodyguard engraving #GTAOnline pic.twitter.com/CBujTJnOH4

— Omega Martin (@m_spitz) December 15, 2015
In addition, the Executives and Other Crimnals DLC introduces a new Adversary mode called Extraction which requires one team to locate a high-value target and secure him from the clutches of rival team's Hit Squad and police.
You may also checkout the full changelog featuring latest feature enhancements and bug-fixes on Rockstar's official support page.
In case you missed out earlier, check out the stunning gameplay trailer for the new DLC in GTA Online: