The internet is abuzz with talk of last-gen consoles not getting any further updates for GTA Online. However, Rockstar has recently released a new bug-fix update (v1.29) with a bunch of anti-cheat measures for the game on Xbox 360 and PS3.
As renowned YouTuber MrBossFTW notes, Rockstar Games had announced that there will not be any updates for GTA 5 on the last-gen consoles, just before the release of the Freemode Event update on Xbox One, PC and PS4.
It has been confirmed that the 1.29 patch update is not a hotfix, and hence it should be downloaded and installed manually via Rockstar game servers.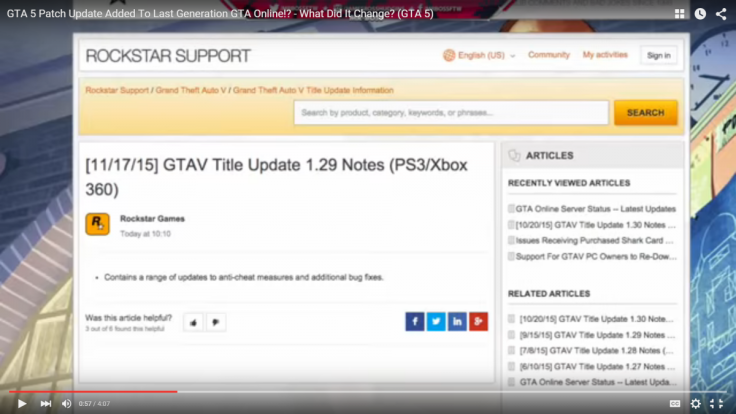 The official release notes for the 1.29 update (see screenshot above) does not actually reveal anything specific about the kind of bug fixes or anti-cheat measures included in it. Nevertheless, Ross clarifies that Rockstar now has better control to oversee the micro-transactions done by the player including the cheats and mods used to alter the game stats in GTA Online, such as the money glitch and car duplication exploits.
It is reported that the new update also patches modders' ability to spawn random items such as cars, planes and weapons at predestined locations in the game. Consequently, all mod-created game bugs and glitches should be gone from the game with the release of the 1.29 update.
The 1.29 patch on last-gen gaming platforms could actually signal the end of modded objects in GTA Online – such as massive crates appearing inside garages, and giant windmills or UFOs spawning at random locations. However, several such patches in the past have failed to curb the game-breaking exploits from hackers and modder created glitches in GTA Online.