The internet is abuzz with a freshly leaked screenshot pertaining to GTA 5 PC beta download via steam, as several users have been reportedly tweeting the leak to a bunch of YouTubers including @Dat_Saintsfan, @iCrazyTeddy, @DomisLive and @MrBossFTW.
Renowned YouTubers, DomisLive (aka Dom), has posted the leaked image (below) in his latest video to clarify to users if the leak is indeed legitimate.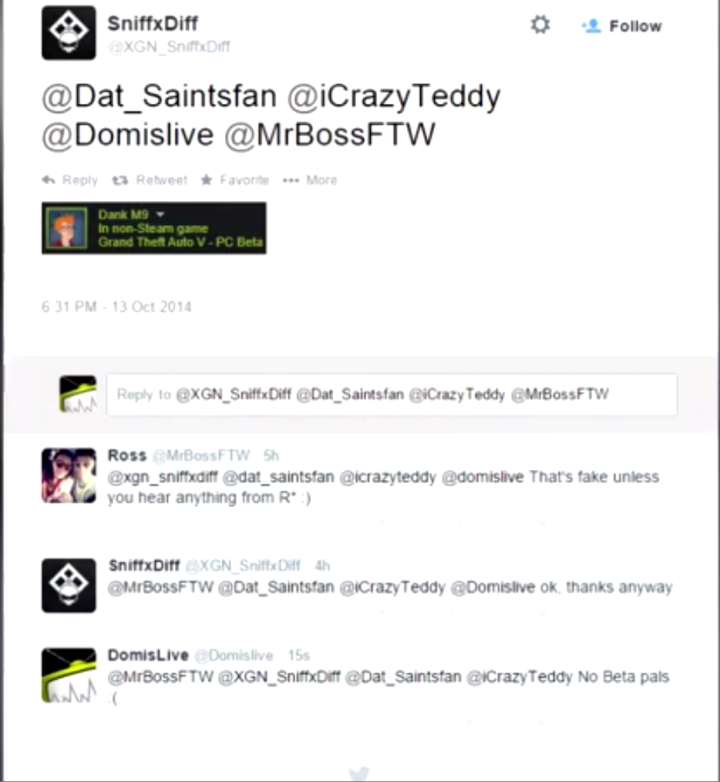 Pointing out an earlier GTA 5 PC torrent scam that surfaced online on 22 October 2013, Dom reiterates the incident wherein thousands of GTA 5 fans were infected by a virus scam masquerading as the PC release for Rockstar's action-RPG game.
It was later ascertained that unsuspecting GTA 5 users were actually tricked into downloading 19GB of malware or viruses.
Now, the latest leak seems to be another attempt towards a phishing scam by some cyber criminals, as Rockstar has posted an exclusive web page on its official website to alert gamers about the ensuing scam regarding the PC beta release for GTA 5.
Here is what Rockstar had to say in its alert message to avid GTA 5 gamers:
"Please Note: There is no pre-release 'Beta' test for Grand Theft Auto V.

"If you see Ads or solicitations to join a beta program, beware as this is likely some type of online phishing scam.

"For all the official details on Grand Theft Auto V, stay tuned to the Rockstar Newswire."
Gamers are advised to refrain from downloading any third-party GTA 5 content via torrent sites, as these may contain viruses and potentially harmful software that could cause irreparable damage to your computer.
Do let us know in the comments section below, if you have come across any such scams regarding the PC Beta Download for GTA 5.