Rockstar has announced that it will continue the celebration of newly launched capture jobs with the extension of promotional period for in-game bonuses in GTA 5 Online, which includes twice the money and reputation points for one more week.
According to Gamespot, Rockstar will be extending the said bonus period until 20 April for all capture jobs mirroring the capture the flag modes from other shooters.
An image depicting capture mode in action (see below) has been posted via Rockstar Games Twitter page along with a message to fans about bonus rewards for playing Capture Jobs: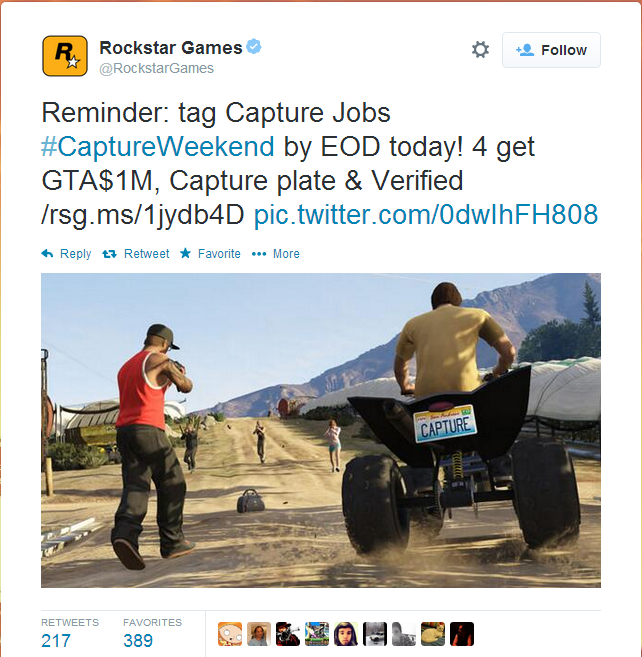 Capture jobs is among a handful of goodies that are expected to release for GTA 5 Online in the forthcoming spring updates, which also include High-Life DLC for new apartments and garages along with the ability to own two properties simultaneously.
Recently, a discerning GTA 5 tipster had revealed the probable list of luxurious apartments and their locations for the upcoming High-Life DLC in a YouTube video. Read more about it here.
Rockstar has not yet finalised the release date for High-Life DLC and highly-anticipated Heists DLC, which are going to be an integral part of upcoming spring updates.
Nevertheless, some avid fans of GTA 5 have already unearthed new ways of playing Heists missions in GTA Online using the capture mode simulator for bank heist. Read more about it here.
With Rockstar expected to announce the long awaited GTA 5 release for PC, Xbox One and PS4 at the upcoming E3 event, the release of High-Life DLC and Heists DLC in the coming weeks will further bolster the interests of the gaming community.