GTA 5 PC Mods: Spiderman and Superhero Mod gameplay revealed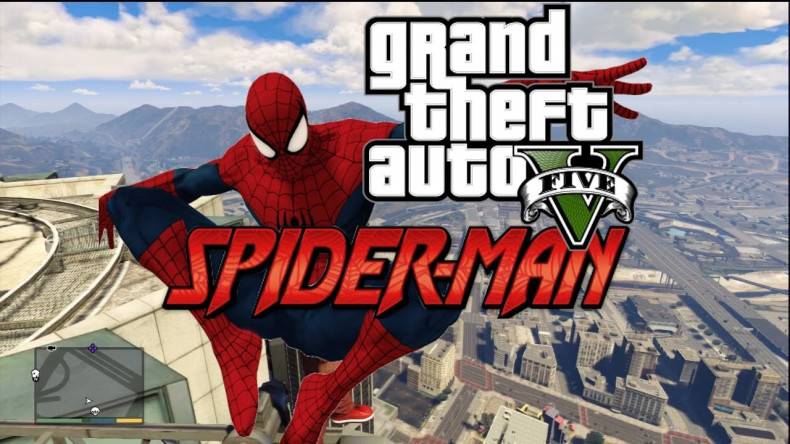 Avid GTA 5 gamers are in for a special treat, as renowned YouTubers DomisLive (aka Dom) and Typical Gamer have showcased the Spiderman and Superhero Mod, in their latest gameplay video for GTA 5.
The new Spiderman Mod brings the Superhero outfit along with the ability to rappel from building to building using the grappling hook, while also grabbing/killing people or clinging onto the oncoming vehicles by shooting the hook at them.
As Dom admits, you can see Trevor wearing a snazzy Spiderman outfit and doing all kinds of crazy stunts after jumping out of building rooftops or sliding down their glass walls.
You can even fire your handgun or pistol while simultaneously using the grappling hook to swing over objects and buildings or cling on to a car's rooftop.
Interested gamers can go ahead and download the Spiderman Mod from gta5-mods.com and follow the instructions posted on the website to install this mod.
This gameplay video (below) has been credited to iCrazyTeddy, who is one of Dom's closest friends.
If you are still unconvinced, check out Typical Gamer's lengthy gameplay video (spanning one hour and 55 minutes) that tells you exactly how to use the Spiderman outfit when you are playing as Trevor in GTA 5.
Here is a brief guide on using the Spiderman suit, for your convenience:
Just go to the nearest safehouse or use the teleport cheat, which is readily available with latest trainers and mods for GTA 5 (download one from gta5-mods.com).
Once you have reached the safehouse, just walk over to your dressing room and activate the wardrobe by pressing the corresponding interaction key (depending on which key you have assigned on your PC).
Then choose outfits, scroll down the list and select Scuba Land or Stealth gear, which is just below the Security outfit. Then click on it once again to confirm and then exit the menu.
You can now teleport to one of the tallest buildings in GTA 5 and put your exotic suit to some stern test.