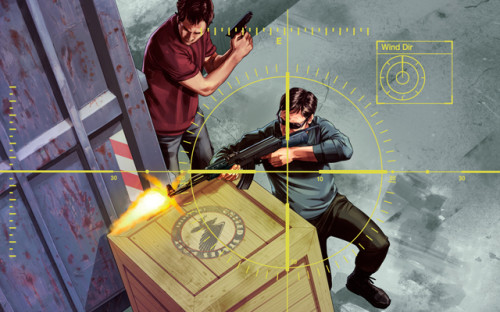 A new rumour has it that the PC version of GTA Oneline will be able to support upto 32 players. The rumour was reported by DOS, who claims that the information comes from a new file that was spotted a GTA forum member.
GTA Online happens to be the multiplayer mode of GTA 5, a game from Rockstar, which has recieved critical acclaim.
Here is the content of the file.
"HUD_COLOUR_NET_PLAYER1
HUD_COLOUR_NET_PLAYER2
HUD_COLOUR_NET_PLAYER3
HUD_COLOUR_NET_PLAYER4
HUD_COLOUR_NET_PLAYER5
HUD_COLOUR_NET_PLAYER6
HUD_COLOUR_NET_PLAYER7
HUD_COLOUR_NET_PLAYER8
HUD_COLOUR_NET_PLAYER9
HUD_COLOUR_NET_PLAYER10
HUD_COLOUR_NET_PLAYER11
HUD_COLOUR_NET_PLAYER12
HUD_COLOUR_NET_PLAYER13
HUD_COLOUR_NET_PLAYER14
HUD_COLOUR_NET_PLAYER15
HUD_COLOUR_NET_PLAYER16
HUD_COLOUR_NET_PLAYER17
HUD_COLOUR_NET_PLAYER18
HUD_COLOUR_NET_PLAYER19
HUD_COLOUR_NET_PLAYER20
HUD_COLOUR_NET_PLAYER21
HUD_COLOUR_NET_PLAYER22
HUD_COLOUR_NET_PLAYER23
HUD_COLOUR_NET_PLAYER24
HUD_COLOUR_NET_PLAYER25
HUD_COLOUR_NET_PLAYER26
HUD_COLOUR_NET_PLAYER27
HUD_COLOUR_NET_PLAYER28
HUD_COLOUR_NET_PLAYER29
HUD_COLOUR_NET_PLAYER30
HUD_COLOUR_NET_PLAYER31
HUD_COLOUR_NET_PLAYER32″
"
"
GTA 5 for PC Rumored Release Date
Several rumours have pointed that GTA 5 for the PC, if it exists, will release in March 2014. A majority of rumours have originated from retailers like Amazon and others, all of whom have accidentally provided information saying that a March 2014 release for the game is imminent. However, Rockstar has refrained from offering any information on the game.
GTA 5 for PC Mod on GTA 4
A group of modders have recreated the GTA 5 map onto GTA 4. You can learn more about that here, here and here.