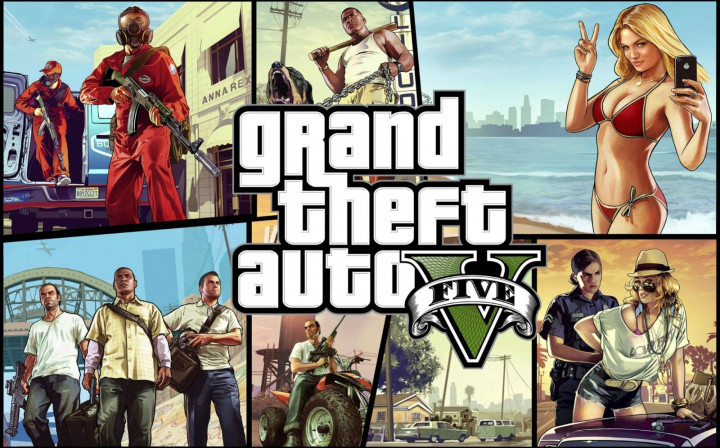 Discerning YouTube tipster, DomisLive (aka Dom), has revealed some interesting tips and tricks to get the Railgun for free, along with some useful information about players losing money and broken Turbo issues in GTA 5 Next-Gen via his latest video.
As the tipster notes, normally it is possible to unlock the free Railgun only after completing the mission 70 in GTA 5 Next-Gen.
However, if you want a shortcut for accomplishing the same task, then you may follow the step-by-step guide below.
Here is how you do it:
Go to the Ammu-Nation Shooting Range at Los Santos Gun Club.
Now select Bonus > Railgun from the weapon's section of the menu.
Just step back a little from the shooting point and shoot yourself or attempt suicide.
Tip #1: Once you have killed yourself, you should be able to retain the Railgun as long as you have enough ammo in it.
Tip #2: In case you run out of ammo, just repeat the glitch from Los Santos Shooting Range to acquire another Railgun for free.
Tip #3: Once you have acquired the Railgun, you can enjoy its raw firepower and cherish its lethal accuracy with deadly damage as you practice shooting at innocent pedestrians or civilian vehicles.
Tip #4: You will truly marvel at the Railgun's extreme firepower, given its deadly combo of incendiary ammo and projectile damage like in guided explosives or rockets.
Tip #5: Just get to the location which is earmarked on the in-game mini map (see video) to acquire a new Railgun, if you ever run out of ammo in the game.
In related news, the same YouTuber unravels the mystery behind installing a buggy upgrade in Los Santos Customs that could make you lose money and get a broken Turbo component in your car.
Apparently, several affected GTA 5 Next-Gen gamers have taken to Twitter to complain about the broken Turbo part upgrade, which makes the car run slower than a stock car.
Check out a bunch of user tweets complaining about the broken Turbo component in GTA 5, in the screenshot below: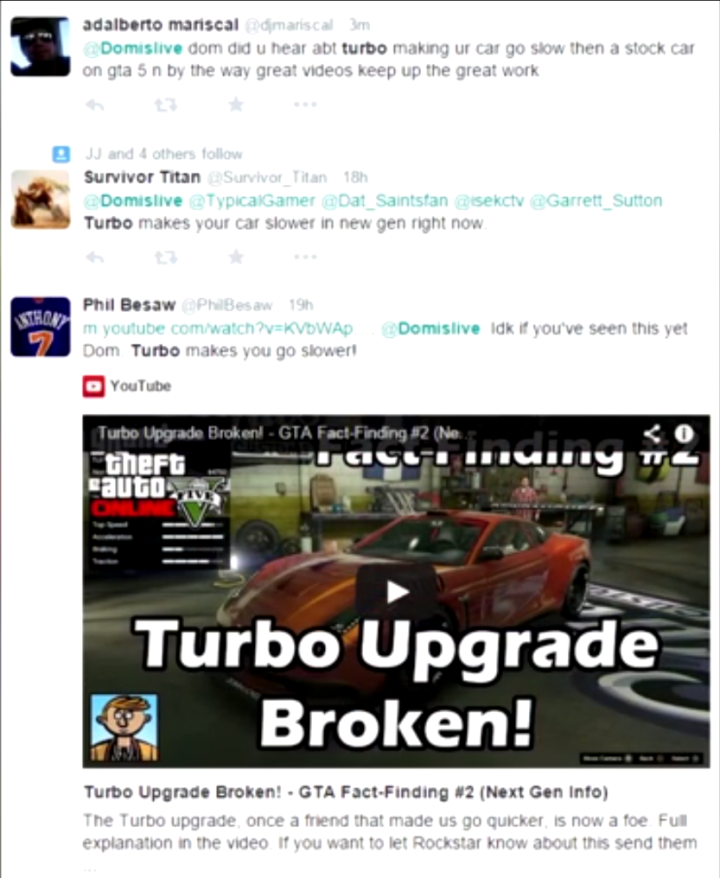 Note: The catch here is that if you upgrade your car with Turbo parts from Los Santos Customs (LSC), then your car will run a lot slower than a stock car as there seems to be a critical bug in the game code, which may be patched in the upcoming title update or hotfix released by Rockstar.
Furthermore, Dom has clarified that the broken Turbo upgrade bug does not exist in GTA 5 last-gen and hence the issue is currently limited to PS4 and Xbox One versions of the game.
With the widespread broken Turbo bug affecting almost all GTA 5 Next-Gen systems, your only option would be to remove the upgrade from LSC in order to get rid of the disadvantage of slowing down your car in races and other competitive missions in the game.