Renowned YouTuber MrBossFTW (aka Ross) has shared some exquisite screenshots from the recently leaked GTA 6 engine trailer aka fake gameplay trailer with the Vice City theme in his latest gameplay video for GTA Online. As Ross notes, speculation is rife that the next GTA 6 release could be around the corner, especially given the fact that it has been two long years since the release of GTA 5.
Nevertheless, it has been confirmed that the recent flurry of leaked images are fake, including the ones seen in the screenshots below: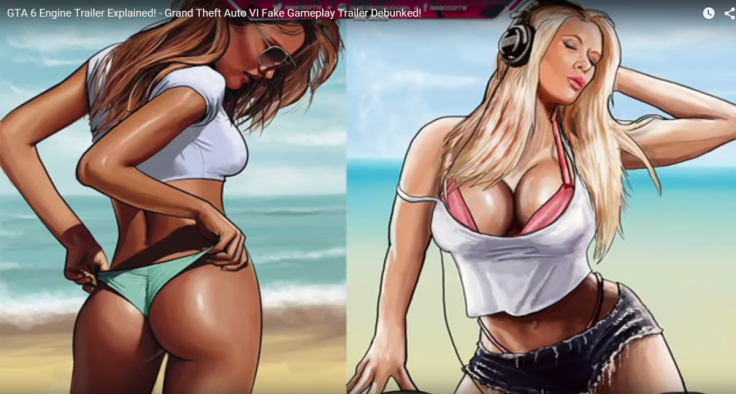 It is further ascertained that the images were created by an artist at DeviantArt, while the GTA community believed that the images were taken from the highly-rumoured GTA game title, Vice City 2.
Meanwhile, a freshly leaked GTA 6 gameplay trailer aka fake game-engine trailer is currently doing the rounds on the internet. It is further confirmed that the leaked trailer has originated from the same source which created the GTA Mobile scam earlier as it was later confirmed that there was no such game being released by Rockstar for the mobile platform. The leaked trailer has been touted as the official GTA 6 game-engine trailer. But a closer look at the trailer reveals a bunch of caveats to prove that it is faked.
Although the screenshots included by Ross in his video look genuine, one of them clearly shows the "Rockstar" logo being misspelt as "Rocstar". Such a gross logo mismatch can only happen with fake creations as Rockstar Games would never release an incomplete gameplay trailer ridden with bugs and errors.
Besides, some of the photos look more like real-life versions reinforcing the belief that they are faked. The customised trailer follows the Vice City theme while signing off with the title name and the caption below it says "Coming in 2017".
To add more credence to the trailer, its creator seems to have faked a BETA post from the Rockstar Games website which reads: "Vice City is back on a grand scale. We present to you the game engine and some interesting elements. See for yourself how many changes you waiting."
Any discerning reader can notice another grammatical error in the faked statement above, wherein the phrase: "you waiting", shows sloppy writing skills. The YouTuber sums up saying that the sloppiness in writing coupled with inconsequential gameplay screens in the trailer, makes it a complete fake. For these reasons, Ross concludes that the leaked trailer indeed belongs to some other game and not GTA 6.