Jada Pinkett Smith turns 45 today (18 September) and to celebrate, IBTimes UK has taken a look back over her last 12 months. From reprising her role in DC Comics-influenced show Gotham to boycotting the Oscars ceremony back in March, it has certainly been eventful! Here are the most notable moments:
Bad Moms
Last month saw the release of female-centric comedy Bad Moms, in which Pinkett Smith starred. Directed by The Hangover Trilogy's Jon Lucas and Scott Moore, the movie centres around Mila Kunis' Amy, an overworked, exhausted mother tired of her everyday life and how she has to rally around everyone to keep up with certain expectations.
At breaking point, she teams up with two other mothers who feel the same way; Kiki (Kristen Bell) and Carla (Kathryn Hahn) to let her hair down and get away from her conventional day-to-day duties. There's only one thing standing in her way, judging, seemingly perfect mother Gwendolyn (Christina Applegate) and her clique; Pinkett Smith and Annie Mumolo.
Oscars race row
Back in January, filmmaker Spike Lee and Pinkett Smith announced they would not attend the 88th Academy Awards ceremony in Hollywood, Los Angeles, due to the non-representation of African-Americans among the nominees. Those who many believed were overlooked in 2016 included Pinkett Smith's husband Will Smith for his lead performance in non-fiction sports drama Concussion, Samuel L. Jackson for his non-nomination for Quentin Tarantino's The Hateful Eight and a best picture snub for NWA biopic Straight Outta Compton.
In a video message she posted on Facebook, the actress explained that "begging for acknowledgement, or even asking, diminishes dignity and diminishes power." For that reason, she believed it was best not to go to the event.
Gotham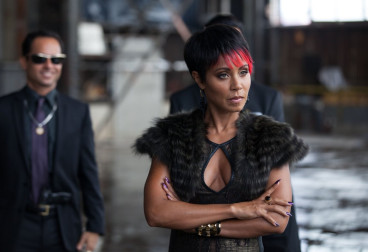 Okay, so she didn't start playing notorious Fish Mooney in Fox's DC Comics-based television series Gotham over the last year, but she did reprise her role towards the beginning of 2016 (and signed on for a third season). Her character is one of the only ones in the programme to have been written specifically for TV and therefore did not originate from the comics.
After her death at the end of season one, Mooney was resurrected by Hugo Strange and continued as a supporting antagonist, second to Oswald Cobblepot (Robin Lord Taylor). Upon her revival, she discovered she had gained the ability to control people's minds through touch.
Dallas police shootings
In July, Pinkett Smith reacted to the Dallas shootings which killed five police officers. The act was reportedly thought to be a retaliation from "desperate communities" following the deaths of Alton Sterling and Philando Castile at the hands of law enforcement.
Speaking to TMZ, Smith explained the incident was further proof that America needed to take action. When asked how to stop the violence, she stated: "That's a good question. Here's what I know, you gotta do something because at the end of the day, it can't keep happening. Desperate communities do desperate things. At some point we're gonna have to do something. We are going to have to figure it out for sure. Trust me it's on my mind."
Girls Trip
Most recently, Pinkett Smith has begun filming comedy Girls Trip alongside Regina Hall and Queen Latifah. While the plot of the movie remains under wraps, it is currently scheduled for a US release date on 21 July 2017.
For more entertainment news follow A-List on Twitter @Alistinsider