A video - Harlem Shake - created by five teenagers went viral on the Internet on last week and has already generated more than 20 million hits, on YouTube, from across the world. The teens in the video are from the Sunshine Coast in Queensland, Australia.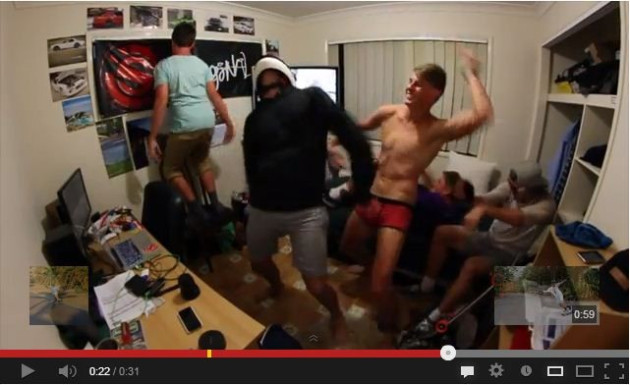 The 31-second video takes off from a dance craze of the 1980s, inspired by the culture of Harlem in New York City. The video first shows just the one person dancing; the four other teens join in slowly and all of them are dancing to DJ Baauer's 2012 electro-dance track.
The original video was uploaded by Oscar Mitchell (as SunnyCoastSkate) and has received more than 3.7 million hits in the last 10 days alone.
Titled The Harlem Shake v1 (TSCS original), the video features Corey Walsh, Jimmy Dale, Matt Stanyon and George Warrener, apart from Mitchell.
And for all those who believe imitation is the sincerest form of flattery, a number of copies (crediting the Sunshine Coast boys as the original) have received over five million hits each.
"I think it's pretty crazy, I didn't think anyone would care at all," 15-year-old Walsh, a high school student, told Couriermail.com.au.
"Some of the groups like the US army doing it, it's pretty crazy the way it's taken off. I reckon it could be (copied like Gangnam style) if it kept going how it is. I don't know if the song would be as big but maybe the dancing might,'' he added.
The boys later revealed the video was made after the gang was stuck inside Stanyon's home due to bad weather and was originally meant only to amuse themselves.
Viral Viral Videos, a Web site that monitors videos going viral, notes the Harlem Shake meme has "exploded" and is also featuring in television shows in the US.
Check out the video: