Heidi Klum hits back at Donald Trump for saying she is no longer a 10 with hilarious video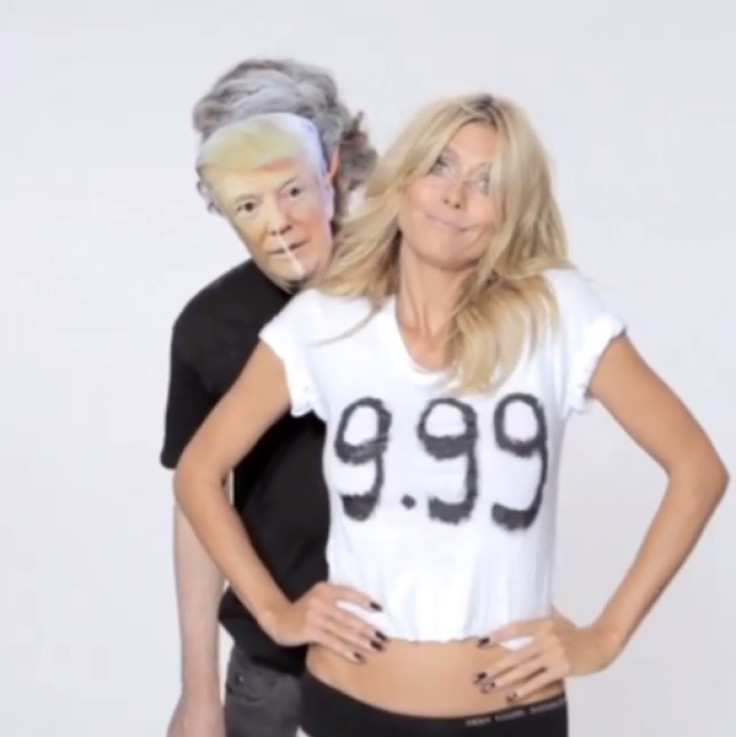 Supermodel Heidi Klum doesn't seem too fazed about Donald Trump suggesting "she is no longer a 10"
Heidi Klum / Instagram
Supermodel Heidi Klum has launched a humourous video attack against Donald Trump, after he told the New York Times that she was "no longer a 10" in the looks department. The 2016 US presidential candidate was actually attempting to justify himself to the publication after the huge number of accusations labelling him a misogynist, a description that Trump rejected.
He did admit that he knows he sometimes does "go a little bit far." But just as he was showing an ounce of uncharacteristic humility, he randomly added: "Heidi Klum. Sadly, she's no longer a 10."
In her retaliation, Klum can be seen posing with a white crop top with the number 10 emblazoned on it. As she smiles for the mock camera, someone sneaks up behind her, wearing a Donald Trump mask, and rips of the 10 to reveal the number 9.99 on her shirt. Klum then gasps as she looks down at the new value on her chest, before looking straight into the camera and smiling.
She uploaded the funny Instagram video alongside the caption: "#TrumpHasSpoken #sadly #9.99 #NoLongerA10 #IHadAGoodRun #donaldtrump #trumped #HeidiTrumpsTrump #BeautyIsInTheEyeOfTheBeheld"
This wasn't the first time Trump has targeted the 42-year-old either. In 2005, around the time Klum had just given birth, the television personality claimed in an interview with Howard Stern: "I looked at her the other day, and it's off. There's no question."
His derogatory and negative comments aren't exclusive to Klum. In the same show, he described Nicolette Sheridan as "flat-chested" and continued to say that whilst Halle Berry's "midsection to shoulders, is a 10" her face is a "solid 8. And the legs are maybe a little bit less than that."
More recently, Trump came under fire when he claimed that Fox News journalist Megyn Kelly was on her period when she called him out on the controversial comments he made about women at the Republican Primary Debate. He stated: "You could see blood was coming out of her eyes, blood coming out of her – wherever," during the event.
When he received backlash for what he had said to Kelly, he refused to acknowledge that he may have been in the wrong, even going on to suggest that it was Kelly that owed him an apology and not the other way around. He took to Twitter to explain that he had meant her nose in his comment, and was not referring to her menstruation cycle in any way, before finally tweeting: "So many 'politically correct' fools in our country. We have to all get back to work and stop wasting time and energy on nonsense!"
He also caused a stir when he called actress and comedian Rosie O'Donnell "a fat pig" and a "disgusting animal" during the same debate. According to the Daily Mail, his remarks have made no significant impact to his popularity with voters as he bids for the presidential seat, but at least Klum managed to get her own back in a brilliant way.
© Copyright IBTimes 2023. All rights reserved.