Nintendo is once again teaming up with fast-food giant McDonald's to offer one of eight different toys based on its beloved franchises with every Happy Meal. The eight colourful and nostalgic toys include Mario, Luigi, Princess Peach, Bowser, Invincible Mario, Yoshi, a Red Koopa Shell and a 1-Up Mushroom - each of which will have a "special function."
The translucent Invincible Mario figurine, for example, will light up in different colours.
From 26 April through 22 May, participating McDonald's restaurants across the US will offer the Super Mario-themed toys tucked inside its Happy Meal boxes.
The same characters are also featured in Mario Kart 8 Deluxe, the re-release of one of the best games on the Wii U that will soon launch for the Japanese gaming giant's new hybrid handheld console - the Nintendo Switch.
Eligible customers - US residents who are 13 or older - will also be able to enter a sweepstakes for a chance to win one of 100 Nintendo Switch Prize Packs featuring a Nintendo Switch system and a copy of Mario Kart 8 Deluxe. To enter the sweepstakes, customers can make a purchase at McDonald's and register it using the chain's mobile app to gain one entry. Customers that purchase a Happy Meal will earn two entries.
You can also send in an email once per day between now and 22 May to receive a free entry in the sweepstakes as well.
"Nintendo is always looking for ways to expand its brand, and a partnership with the family-friendly McDonald's restaurants felt like a great fit," Doug Bowser, Nintendo of America's senior vice president of sales and marketing, said in a statement. "Like Mario, Happy Meals are something both kids and parents grew up with."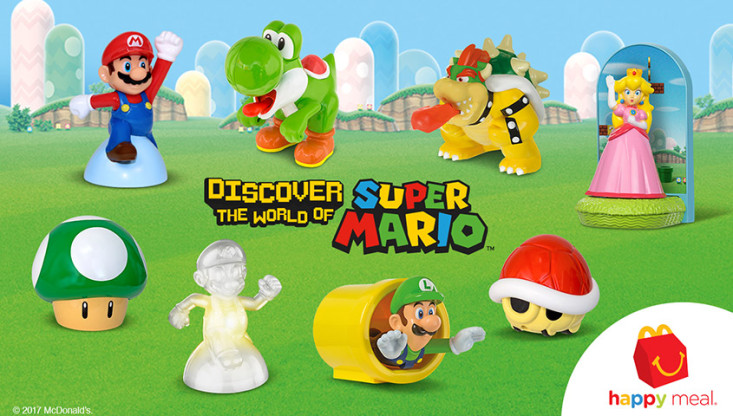 This is not the first time the company has partnered with McDonald's to celebrate the launch of its games with Happy Meals goodies.
In 2014, McDonald's put Mario Kart 8 toys in its Happy Meals to commemorate the initial release of the popular racing game. Fast food fans have also received toys from Pokemon X and Y in April 2014 as well as toys based on critters seen in Omega Ruby or Alpha Sapphire in October 2015.
Back in 1989, McDonald's Happy Meals also included Super Mario toys when Nintendo was promoting Super Mario Bros 3. The nostalgic commercial for that promotion is embedded below.
Mario Kart 8 Deluxe is set to release on 28 April for the Nintendo Switch.