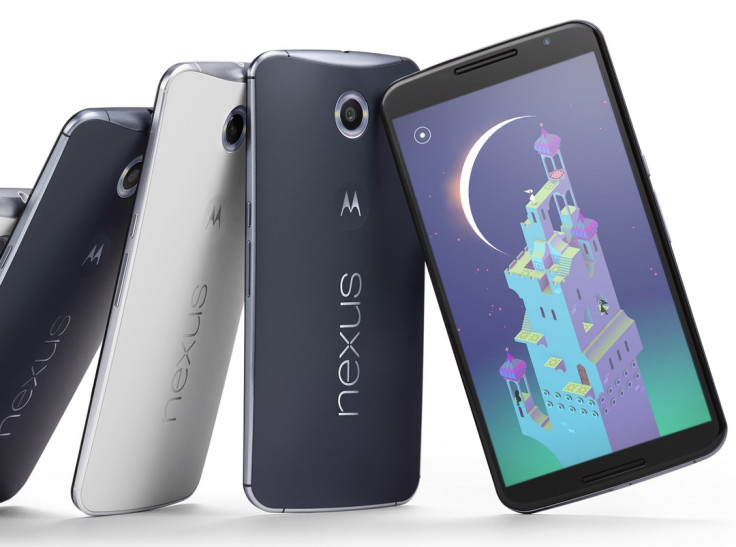 Google Nexus 6 users have been plagued with bugs and issues ranging from random reboots to abnormal battery drain.
Surprisingly, Android 5.0 Lollipop has its own share of bugs and issues that could inadvertently result in shoddy system performance, Bluetooth connectivity issues, slow charging, and several other issues in the course of daily usage.
IBTimes UK explores some of the potential quick fixes for each of these issues in this simple guide.
Abnormal battery drain
Despite carrying a large battery, some Nexus 6 devices are reportedly affected with abnormal battery drain under normal usage.
With due credit to the folks at Android Authority, here are a few nifty tips and tricks to resolve this issue:
Try disabling unused third-party applications running in the background, as they could be potentially draining the battery without the user's knowledge.
Try uninstalling power-hungry apps by checking the battery usage of each app under Settings > Battery menu.
Make sure that all installed apps are running the latest update from its developer, as this could prevent inherent bugs in the first place.
Turn off vibrations and try reducing the screen brightness.
As a final resort, try factory resetting the device and reboot the device with all third-party apps uninstalled. This step will eliminate any corrupt or damaged files on the device.
Unexpected reboots
Several Nexus 6 devices have been reportedly affected with a reboot loop issue, with the phone returning to the same lock screen when a user tries to enter a PIN or lock code.
If this happens to you, try these workarounds and fixes:
Perform a factory reset after backing up your important data and settings on the phone. This should fix a known issue with corrupt or fragmented data is likely to cause this issue.
Wipe the cache partition on the device to remove fragmented data.
Disable active notifications, and try enabling Google Play Services and GPS high accuracy.
Ensure the device is fully charged.
Try using the hangouts instead of the primary messenger application.
Cloud print errors and forced closing
Some Nexus 6 devices struggle to maintain a stable connection with Google's Cloud Print application, due to bugs in the software. If this happens to your phone, try these fixes:
Performing Clear Cache and Clear Data operations via Settings > Apps > All > Cloud Print.
Ensure that the Cloud Print app is fully up to date.
Finally, try performing a factory reset to eliminate any fragmented data and replace corrupt system files.
Bluetooth connectivity issues
Numerous Nexus 6 users have been complaining about nagging Bluetooth connectivity issues on online forums and social networks.
Here are a few potential solutions to address the issue, if you are among the affected users:
Turn off the Bluetooth feature on your handset.
Clear the Bluetooth cache via Settings > Apps > All > Bluetooth Share and select Clear Cache. Tap Clear Data under Bluetooth Share feature.
Restart the phone.
If this does not fix the problem, reboot the Nexus 6 into safe mode as follows:
Hold the power button when the display is on.
Tap and hold the Power off selection in the menu.
Hit OK to enter Safe Mode.
Slow Charging Issues
Slow charging is one of the most frequent problems found on the Nexus 6, which can be resolved in a few simple steps as follows:
Disable unwanted apps.
Quit background apps by pressing the back button twice, rather than tapping Home button.
Avoid playing games while charging your Nexus 6.
Try a charging your phone using a different cable, charger or through a computer's USB socket, to see if Nexus 6's battery is faulty.
Check if the phone charges faster in safe mode. If it does, a faulty app could be to blame. Reinstall the app after doing a factory reset.
Dark screen in bright sunshine
Some Nexus 6 users have complained their phone's screens are too dark under bright sunshine. Here are some workarounds for this issue:
Enabling auto-brightness from the Display Settings.
Alternatively, enable adaptive brightness to automatically adjust and optimise the level of brightness on your phone with respect to the ambient light.
Finally, try tweaking the device's brightness settings manually under Display Settings.
For beginners, here are the steps for deleting data and factory resetting the device:
Deleting Data:
Go to Settings > Personal.
Tap Backup and Reset.
Select Factory Data Reset.
Confirm with Reset Phone.
Enter your PIN or pattern code.
Tap Delete everything.
Hardware Factory Reset:
Power off the phone.
Hold the volume down and Power buttons simultaneously until the device turns on.
A "Start" icon with an arrow should now appear.
Tap volume down twice and then the power button to enter Recovery Mode.
Hold Power button then press and release the volume up button.
Use the volume buttons to select wipe data/factory reset.
Choose "Yes – erase all data" with the Power button.
[Source: Android Authority]