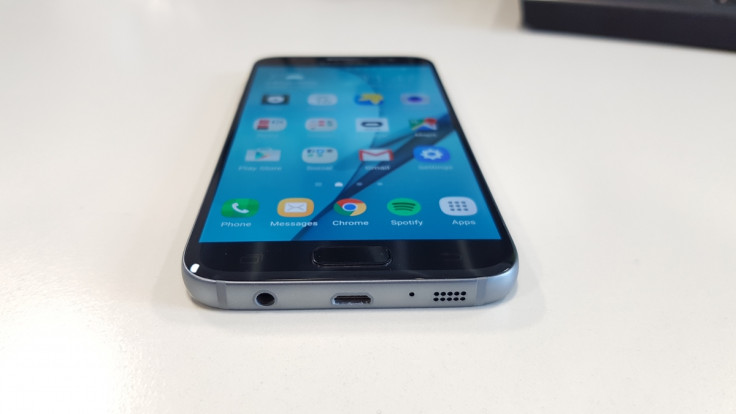 If you're going to pay top dollar for a smartphone, you want to rest easy knowing you're getting your money's worth. Particularly so if you're dishing out for a top-of-the-range flagship like the Samsung Galaxy S7, which will put a dent in your bank account to the effect of £569 ($809, €725).
Well, Galaxy S7 owners may be in for a rude awakening. Analyst house IHS took the device apart and poked around inside to determine just how much Samsung's latest handset was really worth. Their estimate? Just $255 (£181, €230), which includes both the bill of materials (BOM) and manufacturing cost.
Despite the Galaxy S7 currently enjoying top marks from reviewers around the web – including IBTimes – IHS said its teardown of the handset revealed a "ho-hum refresh" consisting of numerous small improvements over the Galaxy S6, as opposed to any one area being given a major overhaul.
Andrew Rassweiler, senior director of cost benchmarking services at IHS, said: "The Galaxy S7 is the upgrade Samsung had to do, but there's not a lot of trailblazing happening on the device. It's more a case of small refinements. Samsung is spending more and more on its bill of materials, but they're selling something that doesn't hold its price as well as an Apple product. Samsung's S7 BOM is almost $60 more than a comparable iPhone."
So evolution, rather than revolution. This is something we largely expected though, given that Samsung overhauled its flagship range with the Galaxy S6 last year.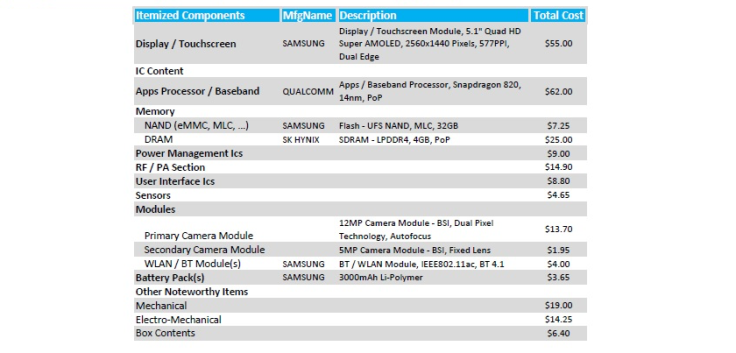 One of the biggest internal changes to the Samsung Galaxy S7 is the inclusion of Qualcomm's Snapdragon 820 processor, which also appears near the top of the bill as one of the device's most expensive components. This is topped only by the display, which conversely was identified by IHS as seeing little improvement over that of the Galaxy S6, which offers the same screen resolution and pixel density as its successor.
The teardown also confirmed that Samsung had backtracked on camera pixels in favour of a better sensor module with so-called dual-pixel technology, which allows the Galaxy S7 to capture images more quickly and perform better in low-light environments.
"Going backwards from 16 megapixels to 12 megapixels buys Samsung larger pixel sizes for better low-light performance," said Wayne Lam, principal analyst for mobile devices and networks at IHS. "HTC did this a while ago with the One Design, but they went down to four megapixels and, as a result, it did poorly in the marketplace. But the S7 boasts arguably the best camera on the market right now."
Before you go away feeling cheated out of your hard-earned cash, it's worth noting that R&D, software development, shipping and marketing costs all have a say in a smartphone's eventual price tag. So, while you may not be walking around with £569 of technology in your pocket, bear in mind that a lot of behind-the-scenes effort has gone toward getting it there.