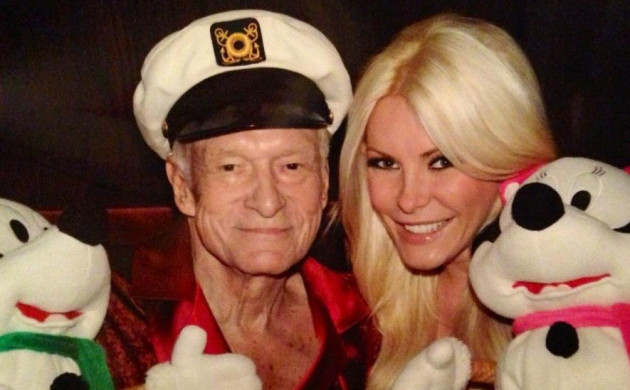 Hugh Hefner is set to finally marry Crystal Harris at his London Playboy Club tonight (New Year's Eve), eighteen months after she cancelled their original wedding on the eve of the service.
Hefner, 86, and Harris, 60 years his junior, will get married at their New Year's Eve party two years after first getting engaged.
Harris cancelled her first wedding to the Playboy founder in June 2011, just five days before the ceremony, after having what Hefner described as a "change of heart".
However she looks set to go through with her forthcoming nuptials, having already changed her name to Crystal Hefner on her Twitter account.
She wrote: "Sweet dreams everyone, big day tomorrow!"
Hefner also confirmed he was looking forward to tonight's event, saying: "Getting ready to depart for England in an hour to host the NYE bash at our London Playboy Club. I can't wait."
Harris and Hefner met on Halloween 2008 and started dating in January the following year. The octogenarian announced last year's wedding was cancelled on Twitter, saying his then 25-year-old bride had had a "change of heart".
The couple picked up their marriage licence in Beverly Hills earlier this month, meaning they have 90 days to marry before it expires.
Hefner's former girlfriend Bridget Marquardt told E! News that the wedding would be held on New Year's Eve, adding that she was happy for the Playboy founder.
Marquardt said: "I just hope he's happy. I'm happy for him if he's happy. And New Year's Eve is a romantic time to get married. It's a romantic holiday. A good way to start off the New Year."
Tonight's wedding will be Hefner's third marriage, having wed Mildred Williams in 1949 and Playmate of the Year Kimberley Conrad in 1989.
He has four children with his two ex-wives - Christie, who now runs the Playboy empire, David, Marston Glenn and Cooper Bradford.
According to TMZ sources, the wedding will be a small affair, attended by just family and close friends.