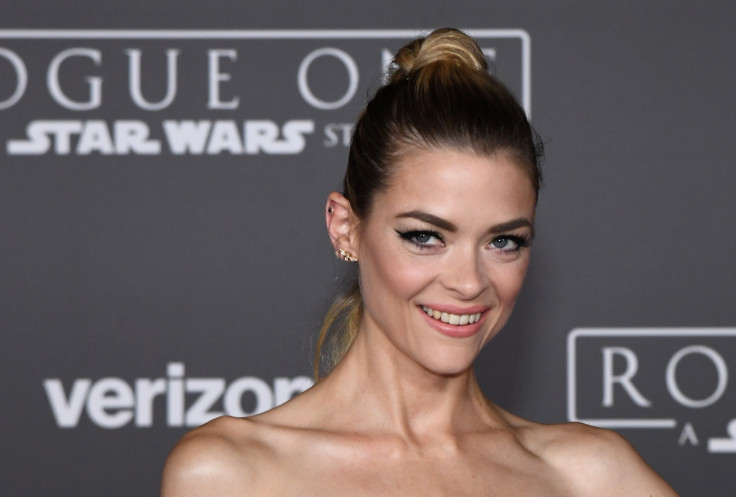 Jaime King has two healthy sons – James Knight and Leo Thames, but the path to motherhood has been a tough and challenging one for the American actress. In an interview with Galore Magazine for its September issue, the Sin City star revealed the physical and mental trauma she went through as she suffered from endometriosis and polycystic ovary syndrome.
"I thought that because my womb didn't work the way I was taught it should work, I was broken," she said as she spoke about her numerous miscarriages and challenging pregnancies. "We are told as women that our great value is to be able to carry life, to carry a child. If we're fertile and abundant, we're a worthy goddess. But for some reason, those parts don't function for some of us."
The Hart of Dixie actress went through a traumatic period when first told that she could not manage to carry a baby to term. "It crushed me in a way that was so much deeper than I could explain. I felt ashamed that I was suffering every day. I would wake up in pools of blood, and feel ashamed. And then I said, f**k this. I'm not going to be ashamed."
In 2013, King gave birth to her first son, James and in 2015 to Leo, and since then continues to promote open discussions on the subject of reproductive issues.
"We need to talk about these things. We grow up with a mentality that menstruation is not supposed to be painful, and if it is, you deal with it yourself and don't complain. Girls as young as 12 get diagnosed with endometriosis and PCOS.
"When you're living with it, it can be constant agony," she explained.
Her experiences have taught her the importance of organisations like Planned Parenthood and King has campaigned for its continued funding. "The possibility of Planned Parenthood being defunded sends me into such a rage," she said.
"The free birth control provided by Planned Parenthood not only suppresses endometriosis but also protects your fertility. So girls who don't know they have endometriosis are at least treating it with birth control and taking the only medication out there to suppress these conditions. It's preserving life," she said, explaining one of her decisions to support Hillary Clinton in the 2016 presidential election.
For the publication's upcoming issue, the 38-year-old actress posed for a series of photos in a range of costumes – from a velvet blazer, cowboy chaps and a tiny star-shaped bikini, to a bedazzled corset and lacy lingerie. She also posed nude, showing off her back, torso and arm tattoos.
"My whole life, it feels like I've been sold through my imagery. A lot of the time, it's about selling sex," she said. "Society has celebrated and shamed sexuality at the same time. I remember feeling very confused as a young model because I'd be accused of leading people on if they thought I was too sexy or too beautiful. So I want these photos to be a celebration of that side we all have, that we can embrace and love without fear of being judged or harassed."
King is currently filming Escape Plan 2: Hades. The film also stars Sylvester Stallone and Curtis "50 Cent" Jackson along with Dave Bautista, Jaime King, Jesse Metcalfe, and Wes Chatham, and is expected to release in 2018.