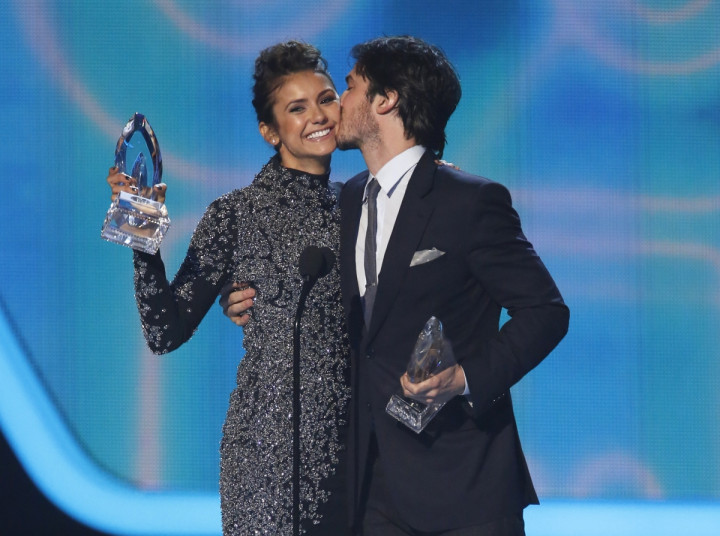 Ian Somerhalder is jealous of Nina Dobrev new boyfriend and The Vampire Diaries star is reportedly having second thoughts about his current girlfriend Nikki Reed.
Last week it was reported that Dobrev has a boyfriend, whose identity is still unknown.
The website said: "Apparently, Nina might also have a boyfriend, even though she's been keeping him on the down low for a while. Now, we can't say whether this is a legitimate 'boyfriend', a fling, a hookup, or just some random dude that our sources saw her with."
A new report in Celeb Dirty Laundry claimed that Somerhalder, 35, has become jealous of Dobrev's mystery man, and wants her back in his life.
The website said: "We're hearing that since Nina and this mystery man started hooking up, Ian has been having second thoughts about his relationship with Nikki Reed. Apparently, old feelings of jealousy started to creep up on him, and he couldn't help but wish for Nina Dobrev back.
"And since Nina Dobrev and Ian Somerhalder's reunion is never going to happen, he'll just have to settle for wishing her new boyfriend gone instead. But now Ian will know what Nina felt like when he flaunted his relationship with Nikki in everyone's faces."
Ian and Nina, who play the lead in hit CW show The Vampire Diaries dated for a few years, and called it quits last year.
Somerhalder is currently dating Twilight actress Nikki Reed and according to reports the couple are much in love.
E! News reported that The Vampire Diaries star was spotted with Reed this past weekend at the third annual Unlikely Heroes Awards Dinner and Gala.
A source told the website that Somerhalder "looked enamored and crazy in love with her" at the event.
"They couldn't keep their hands off each other," the source added.
The actor also tweeted:
A night out with @nikkireed_i_am and this amazing guy, our Former President billclinton @ClintonFdn... http://t.co/TDfiAPg8Ah

— ian somerhalder (@iansomerhalder) November 9, 2014