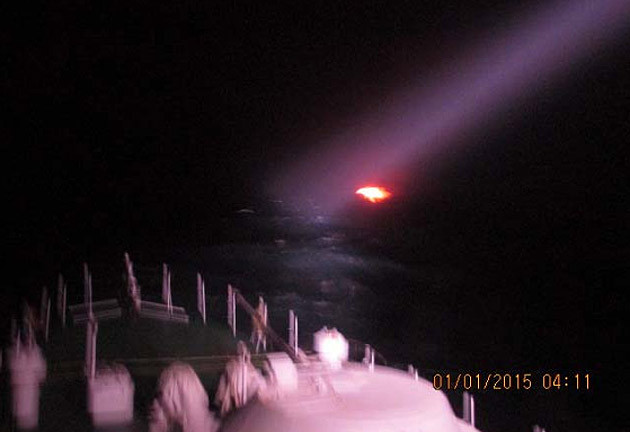 India said its coast guard had intercepted a suspicious fishing boat from Pakistan off the Gujarat coast on the New Year's Eve, but the people aboard the vessel set off an explosion and fire after they were chased by the guards.
The four men in the boat laden with explosives appeared to have been killed in the explosion, according to Indian officials.
India's Defence Ministry said it received intelligence on 31 December night that a fishing boat "was planning some illicit transaction in the Arabian Sea." As the coast guard located the boat and tried to investigate, the men tried to escape, refusing calls to surrender.
They "hid themselves in a below-deck compartment and set the boat on fire," a statement from the ministry said. It added that the coast guard were prevented by darkness and strong winds as they tried to recover the boat's remains.
Officials from Pakistan said they believe the report is a hoax, however, they added that they were trying to investigate the matter.
Indian media said the incident raised suspicions that a major terror attack, similar to the 2008 Mumbai attack, was being planned. Indian Coast Guard and Border Security Force (BSF) along with the Gujarat Police have beefed up security in the state of Gujarat, the home state of Prime Minister Narendra Modi.
"It seems there was incriminating material in form of terror-related explosive from Pakistan that made the men blow themselves up. Maybe they were under strict instructions to not be caught alive in any event. That is a matter of investigation," an intelligence source told the Times of India.
Earlier in 2008, heavily armed terrorists travelled by boat from Pakistan and attacked the Indian city of Mumbai, leaving 166 people including foreigners dead.
The incident comes at a time the relation between the nuclear armed neighbours is deteriorating amid increasing tensions on the Kashmir border.