Nintendo's recently released Switch console promised a lot with its ambitious premise: A full-fledged home console you can take with you. On most counts the Japanese giant undoubtedly delivered, but there are a few design niggles that have bothered early adopters, most notably in the battery life department.
Switch players' battery woes could be in for a quick fix, however, as a London start-up has taken to crowdfunding platform Indiegogo with a clip-on plastic case that promises to quadruple on-to-go playtime for Nintendo's biggest games.
Dubbed the "first multifunctional battery case for Nintendo Switch", SwitchCharge houses a whopping 12,000mAh high capacity battery, which the start-up claims to have "specifically designed to push out a high output allowing you to play and charge the Switch at the same time."
For an idea of how this translates during portable play, Nintendo estimated that its instant classic - but power-hungry - adventure Legend of Zelda: Breath of the Wild would last approximately 2-3 hours on average. During beta-testing, the SwitchCharge team managed to explore Hyrule on handheld for just under 11 hours on one charge when played at 30% brightness thanks to its prototype case.
While Switch-compatible portable chargers are already available, SwitchCharge has the advantage of being able to provide additional battery life without the trailing wires. The final product will also include an LED indicator which will flash red when the case needs recharging.
The case's creator, which consists of former Apple and Tesla designers and engineers, has also targeted the Switch's rather fiddly kickstand and the inability to charge the Switch while in 'tabletop' mode by adding a much wider, adjustable kickstand to the rear and moving the USB-C charge slot to the side. It also features two additional card slots for carrying multiple Switch games.
One minor drawback to the SwitchCharge is that it makes re-docking the Switch to a TV with Nintendo's official pass-through device impossible with the case attached, however it hopes to cut through this issue with a simple three-step "Quick Lock/Unlock" feature.
There is also the small matter of weight, which is almost unavoidable when adding battery packs of this size. The Switch itself weighs 398g with two Joy-Con controllers attached which means the SwitchCharge's 390g frame will near-enough double the Switch's portable bulk.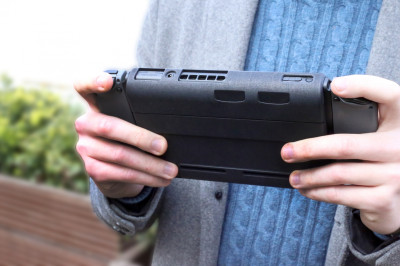 For some though, a weightier console will be a small price to pay for such a huge battery boost, and SwitchCharge founder Charlie Baron isn't shy about how much the company thinks its creation adds to Nintendo's console.
"Like many of you, we love the Nintendo Switch," he said. "We think it's an impressive console, but we wanted to make it even better. By addressing its weak battery life and flimsy kickstand, we're proud to have created a device that we really think helps the Switch reach its full potential."
SwitchCharge is after $80,000 on Indiegogo and hopes to complete delivery on all backer orders worldwide by "early August 2017." The case will eventually retail at $130, although early backers can receive money off via campaign pledge tiers. You can check out the Indiegogo page for yourself here.