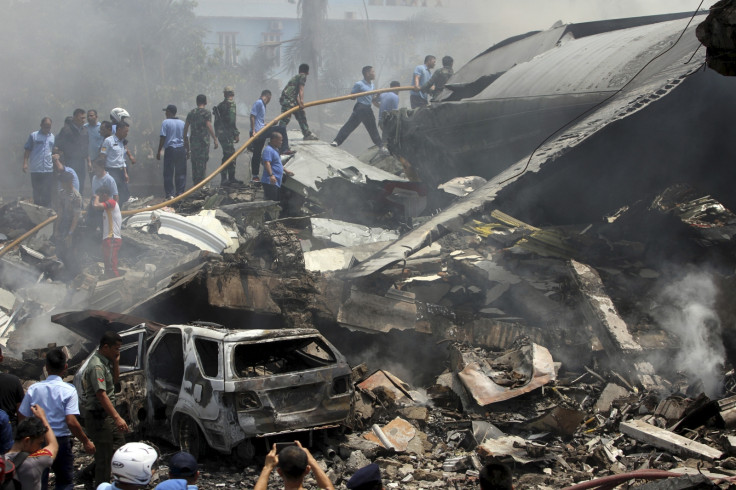 Indonesian authorities have said the pilots of the crashed military plane had requested permission to land just two minutes after take-off.
Air force spokesperson Lieutenant Colonel Sutrisno said the pilots did not have enough time to explain why they wanted to turn back.
The Lockheed C-130 Hercules, a four-engine turboprop army transportation aircraft, crashed in a residential neighbourhood in Medan, North Sumatra, shortly after it left the runway on Tuesday, 30 June.
Officials have begun an investigation into what went wrong. Witnesses said the plane was engulfed in flames and smoke before it plunged into the residential area.
There were 12 crew members – three pilots, one navigator, and eight technicians – on the plane when it went down.
Emergency personnel have so far recovered 141 bodies from the crash site. It is unclear how many residents were killed as Indonesian officials confirmed there were 122 people aboard the plane. Many of the passengers were relatives of military personnel.
"All victims' bodies were in horrid condition. Some of them were completely charred while others are missing their limbs," a hospital staff told the Indonesian daily Jakarta Globe.
Forensic teams were also at the scene to collect blood samples of the victims in order to identify the bodies.
"The evacuation of victims from the Hercules plane must be prioritised. Then there must be an evaluation of the age of planes and defence systems. Hopefully, we can stay away from disasters," President Joko Widodo wrote on the Twitter. He is expected to make an address later in the day.
The crash of the transport plane, manufactured in 1964, has turned the spotlight on Indonesia's ageing air fleet, which has a poor safety record, and the cash-strapped air force.