In what might just be the most evenly matched smartphone face-off in 2014, the Motorola Nexus 6 will be available in markets across the world in coming weeks and will compete with Apple's newly launched iPhone 6 Plus. Which of the two smartphones is the better option for you?
The question is a slightly difficult one because the Nexus 6 isn't like all the other Android smartphones out there. Also, like the iPhone 6 Plus, its hardware and software were tailor-made and integrated to work together harmoniously. We compare the specs of the two smartphones to understand how they compete against each other.
---
iPhone 6 Plus
---
Advantages
Even though it does use a large 5.5in screen, the iPhone 6 Plus should be somewhat easier to hold and use when compared to the Nexus 6, which is significantly larger at 6in in display size.
Apple's iPhone 5s had one of the most practical smartphone cameras ever made thanks to its quick performance, solid image quality and ease of use. The iPhone 6 Plus continues that legacy and adds it with faster auto-focus technology, Optical Image Stabilisation, a new time-lapse mode, and an improved 240fps slow-mo mode. All in all, it is one of the best smartphone cameras currently available in the market.
Touch ID Fingerprint scanner for greater security.
Apple Pay (arriving tomorrow) to make payments at retail and food outlets much more convenient.
Top-notch software experience thanks to iOS8. Gorgeous design, intuitive and simple UI and a brilliant visual experience over all.
Features like Hands-On for greater continuity between other iOS and Apple devices. Great if you own more than one Apple product.
Thinner body than previous iPhone.
Solid performance thanks to A8 chip.
Disadvantages
Somewhat fragile body as proven by the recent 'bendgate' controversy. While your iPhone 6 Plus might not necessarily bend, it isn't as strong as the other smartphones out there, such as the Moto X, Nexus 6 and Galaxy Note 4.
No QHD display as seen in competing devices such as the Samsung Galaxy Note 4, LG G3 and Nexus 6.
Offers a smaller 2915mAh battery unit than rival smartphones, resulting in significantly lesser battery life when compared to the competition, most of whom offer 3200mAh and more.
---
Nexus 6
---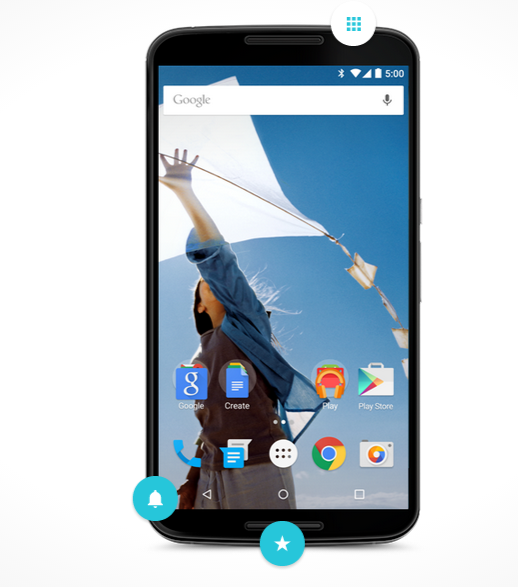 Advantages
Best-in-Class performance thanks to a Snapdragon 805 System-on-Chip.
First smartphone to get Android L. Will also be first in line for Android updates in the future. Also, it will be the smartphone showcasing Google's vision of Android, allowing it to offer an extremely modern and flawless user experience.
Excellent imaging thanks to a 13 megapixel autofocus camera with optical image stabilisation and dual-LED (ring) flash.
6in QHD Display is one of the best available and will result in some stunning visuals.
Extremely solid build quality thanks to aluminium frame and sturdy design.
Sizeable 3220mAh battery unit for all-day battery life (and maybe some more).
Disadvantages
The 6-inch display will make the smartphone a little too large for most hands, meaning that the Nexus 6 won't be ergonomic at all.
---
Bottom Line
While the iPhone 6 Plus continues Apple's trend of offering a premium smartphone experience, the recent 'bendgate' controversy has scarred the product's reputation. The issue involved reports claiming that the smartphone was easy to bend and indicated that Apple's new iPhones were rather weak and fragile. If you can look past this issue, Apple's iPhone 6 Plus offers one of the smoothest and most premium smartphone experiences out there in terms of performance, imaging and convenience.
The Nexus 6, on the other hand, has powerful processing, solid imaging capabilities, and is expected to offer the smoothest Android experience on any smartphone out there. While some users might like its 6in form factor, most others are bound to find it a handful.
When choosing both smartphones, it comes down to factors like form, app ecosystem preference and battery life requirements.