Iran executed three child offenders in January, in a stark violation of international laws, human rights activists have claimed.
At least three offenders under the age of 18 were killed by hanging in Iran last month, Human Rights Watch (HRW) said on Wednesday (7 February).
The conservative Islamic republic is one of only four countries in the world to execute children. Yemen, Saudi Arabia and Pakistan also carry the death penalty for crimes committed by under-18s.
On 4 January, Iranian authorities at Karaj prison executed 18-year-old Amirhossein Pourjafar for allegedly raping and murdering a three-year-old girl when he was 15.
Pourjafar's lawyer said the teenager was suffering from severe mental health issues at the time of the crime and had been hospitalised during his detention.
At the end of January, Iranian authorities executed two more child offenders, according to HRW.
On 30 January, 20-year-old Mahboubeh Mofidi was executed in a prison in northern Iran for the alleged murder of her husband. Mofidi, who was 13 when she got married, was accused of killing her husband in 2014.
Ali Kazemi was hung at Bushehr prison in southern Iran for allegedly stabbing a man to death in a street fight in 2011. The Imam Ali Society, an NGO working to save children from death row, reported the execution to HRW.
The NGO said that Kazemi was hung in spite of authorities promising his family that they would try to halt the execution.
Prison authorities reportedly called his parents on the morning of 30 January to say that the execution had not taken place. However, at midday Kazemi's relatives found out that he had been killed.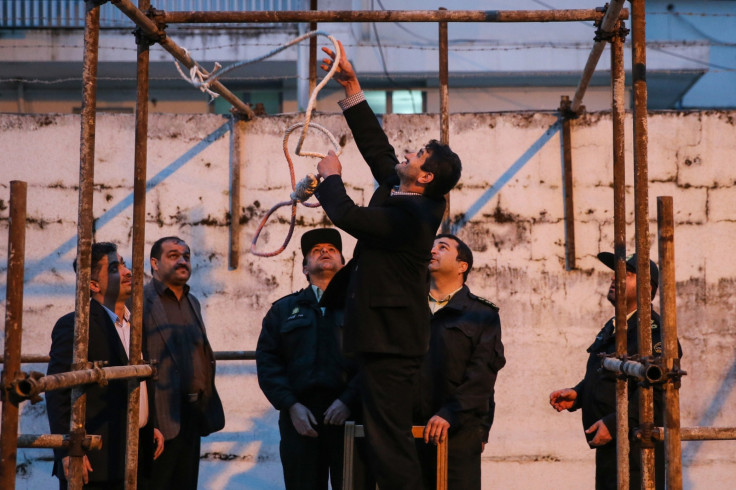 Iran is a signatory of the Convention on the Rights of the Child which bans executing child offenders. In 2013, amendments to Iran's penal code were made, prohibiting the execution of child offenders for certain crimes, including drug-related offences.
However since the introduction of these amendments, Iranian courts have continued to sentence under-18s to death.
From 2014 to the end of 2017, Iran executed at least 25 people for crimes committed when they were under 18, according to Amnesty International and Iran Human Rights.
In a report condemning last month's executions, Sarah Leah Whitson, HRW Middle East director, said: "Iran seems intent on erasing any positive impression gained from modest reforms to its drug execution laws last year by hanging several child offenders in a bloody start to 2018.
"When will Iran's judiciary actually carry out its alleged mission, ensuring justice, and end this deplorable practice of executing children?"
"Iranian authorities often claim they are treated 'unfairly' by the international community for their human rights record, but they only hurt their case when they have the shameful distinction of leading the world in executions for crimes committed by children," she said.