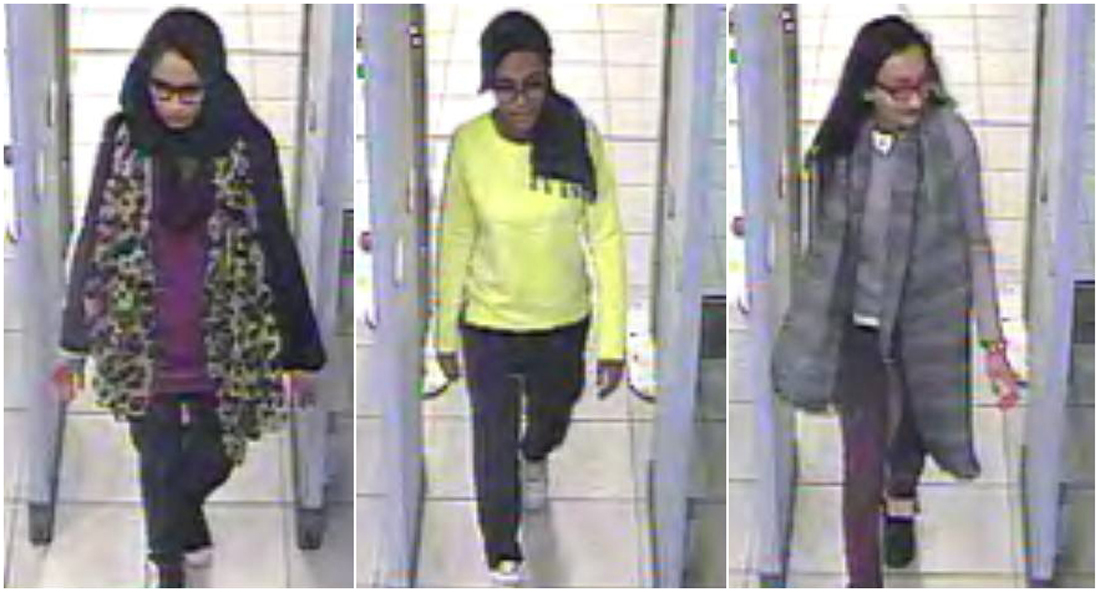 Three British schoolgirls who fled Britain in February to join Isis in Syria, are no longer together, their families' solicitors have revealed.
Amira Abase, 15, Shamima Begum, 15, and 16-year-old Kadiza Sultana were caught on CCTV in Turkey before arriving in Syria.
The video was recorded on 17 February, the day the three friends left their homes in East London, after telling their families they would be out for the day.
They are now believed to be living in the Isis stronghold Raqqa, however reports suggest that they have been separated and possibly married off to fighters as jihadi brides.
Representing their families, Waterford Solicitors confirmed "some of the girls" had made contact with their families in the UK and despite concerns regarding their welfare, they have expressed no desire to return home to their families.
"They have made it known that they are safe and in good health but are no longer in the company of one another. Furthermore, they have intimated that they are unlikely to be returning to the UK in the immediate future. The families are grateful to know that their daughters are alive and in good health."
The only previous communication from the girls came in April when Abase posted an image of a takeaway meal, giving a rare insight into her new life as a Jihadi bride.
The statement from the family solicitors comes after a senior female commander who defected from Islamic State told Sky News that the teenagers were groomed by a team of social media experts in Raqqa.
The woman, identified as Um Asmah, was the first person to contact foreign girls crossing the border who would inculcate the new recruits in the strict practices of the regime.
She revealed that she had helped the girl's passage to a base in Raqqa where they are now undergoing a four-month training regime for "special missions".
The 22-year-old claims the girls were happy, but unprepared for living life permanently veiled.
One of the girls revealed her face to a driver and was immediately reprimanded and lectured on etiquette.
Speaking in a secret location in Turkey, she says it is possible fighters are already being trained in Europe, but she confirmed most of the training was in Syria.
She says she is unsure where the girls are now, but doubts they have been married off to IS fighters "unless they wanted to".
Um Asmah says IS has a well-structured grooming system that can psychologically target vulnerable youngsters like the three British girls.
"IS is not stupid, they have educated people who know how to deal with (the) psychology of others, how to deal with the human being. All these are in IS," she said.
"They have ways to attract people - especially foreigners. Otherwise young British people wouldn't come and say they will change the flag on Buckingham Palace. IS have the ability to manipulate the minds of young people. If they can convince foreigners, it is even easier to convince Arabs and Syrians. They have freedom and everything is available - they have no need to come to Syria but they do."
Um Asmah says she lives in fear of IS tracking her down, adding: "I am a traitor and an unbeliever now. I am scared every day, every minute and of everyone I meet. I am a young girl. I want to live my life, I want to travel, go to cafes, meet friends like any normal girl."
The fate of the three London girls has already been decided by the terror group, she says: "Everything is already decided for you and you cannot evade it or refuse it.
"You cannot have a mind of your own, you have to follow their orders."
It was earlier reported that that three girls, believed to be the pupils from Bethnal Green academy, were on the run from Isis. They would almost certainly face public execution if they ever tried to leave.
Asked if the girls will be allowed to return home, Um Asmah said they will "never" go home and are more likely to "die in Iraq or Syria".
As many as 500 Britons are thought to have made their way to Syria or Iraq to join Islamist groups. Around half have since returned, and dozens have been arrested in Britain under anti-terrorism legislation.