Isis: Islamic State executioner dubbed 'The Bulldozer' wreaks terror on Syrian children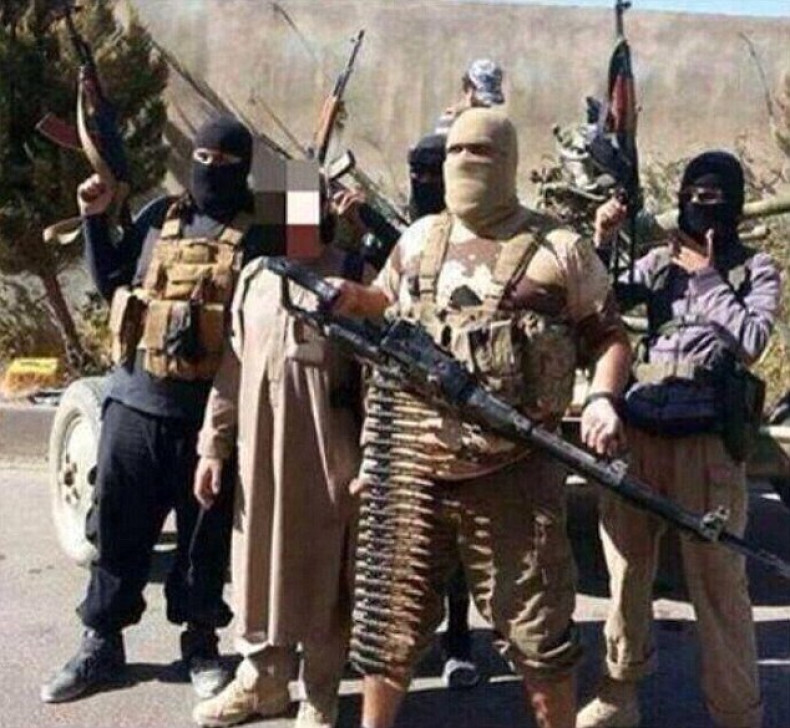 A 14-year-old Syrian boy named Omar has revealed he was the victim of one of Isis's (IS) most notorious executioners known as The Bulldozer. The 20-stone monstrosity is said to be part of the terror group's so-called 'Chopping Committee' and is known for savagely beheading unarmed men and amputating young children.
The extremist executioner amputated the child's arm and foot because he refused to join the terror group. Omar, who was captured and tortured for a month after he was found to be fighting for a rebel group, explained the militant first gathered a large group of children to watch the brutal amputation, issuing a stark warning of what could happen to them if they resisted IS.
Omar told Channel 4 news: "They put my hand on a wooden block and cut if off with a butcher's knife. Then they cut off my foot."
The child tragically recounts how he looked up to see his dismembered hand and foot, and the terrifying figure of the executioner towering over him. Omar revealed an image of The Bulldozer he had taken on his mobile phone, which showed him dressed-head-toe in black, his face concealed as he leant against the blade he uses to maim children.
In an earlier picture published on IS websites the heavyweight killer is seen carrying a five foot long Browning machine gun which can weigh up to 52kg, on his shoulder. The weapon, which can be used as a light anti-aircraft gun, is usually mounted on turrets, tanks or fixed structures.
Only last month, ISIS websites published pictures of the same man beheading two suspected blasphemers in front of hundreds of men and young boys in Iraq's Anbar province.
The Bulldozer is the latest executioner to gain notoriety after Jihadi John, who was regularly seen in graphic beheading videos used as part of the terror group's propaganda campaign. He was eventually unmasked as Mohammed Emwazi, 27, a former computer science student, from west London.
As part of their campaign, the terror group often recruits and trains children for its insurgence and are focused on radicalising the next generation of jihadis. They have systematically preyed upon the children of Raqqa who are forced into 'junior Jihadi training camps', with the objective of creating an entire generation for whom Islamic extremism and acts of terrorism are normal practice. The terror group has been forcing thousands of children to undertake military and psychological training from as young as five at 'Junior Jihadi camps'. Tens of thousands of children are being enlisted and forced to fight or serve as suicide bombers.
Children are trained in fighting techniques in three camps set up near IS de facto capital of Raqqa. The al-Khalifa Cubs Institute and the al-Farouk Cubs Institute in Raqqa, and the Sharia Camp for Cubs in the nearby city of al-Tabqa, take boys for 40 days and indoctrinate them to become jihadists, according to campaign group Raqqa is Being Slaughtered Silently.
The extremist group opened recruitment offices for the "cubs of the Caliphate" in two Syrian cities, al-Mayadin and al-Bokamal.
In July, a Yazidi mother revealed how her four-year-old son was forced to join an IS terror training camp, where he was inculcated in the evil practices of the terror group. The child was forced to learn passages from the Koran, Sharia Law and in a sickening example of the depravity of the group, he was given a sword and taught how to behead his own mother.
While graphic accounts of teenage boys being used to carry out mass executions have become commonplace, girls are now also being prepared to seek death as their religious duty. A former Isis primary school teacher named Emil described how she and other teachers instructed the girls in her schools that they should give their lives for IS, claiming they would all die as martyrs in jihad and go to straight to heaven for fulfilling their 'duty'.
Children also described how school teachers encouraged them to become spies in their own households and inform on relatives and parents who do not support Isis.
The children are even groomed by their own parents who indoctrinate them from a very young age. In October, IS announced one of its youngest fighters, a 10-year-old boy, was killed along with his father in Syria. The terror group hailed the boy as IS' youngest martyr.
The UN commented that the terror group "prioritises children as a vehicle for ensuring long-term loyalty, adherence to their ideology and a cadre of devoted fighters that will see violence as a way of life."