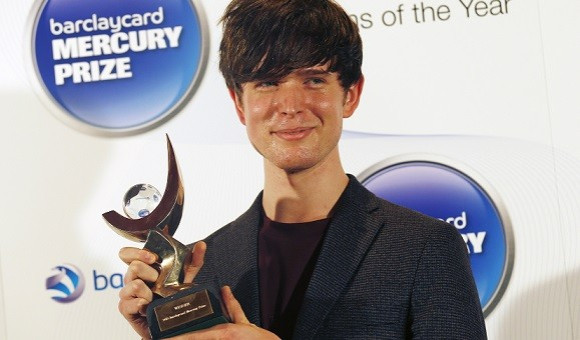 Electronic artist James Blake has won the 2013 Mercury Music Prize with his second album Overgrown, beating off favourites such as Laura Mvula and Disclosure.
Blake, who was also nominated for his self-titled debut album in 2011, walked away with the award and the £20,000 prize money at a ceremony at the Roundhouse, in Camden, north London.
Accepting his award for best British or Irish album of the year, Blake said it was the first one he has been given since he was 12-year-old when he won a tennis trophy at his school.
The 25-year-old classically trained pianist has been praised after emerging from the dubstep scene to create his own form of ambient, minimalist music complete with haunting vocals.
The judges described the album as "late night music for the digital age. An inventive, poignant and poetic record of great beauty", adding "James Blake makes music like no-one else".
His second album, which features guest performances from Brian Eno and the Wu tang Clan's RZA, was almost universally well-received. It earned an 8.2 rating on review aggregator website Metacritic, with reviewers describing it from "bone-chillingly gorgeous" and an album "intent on moving the heart rather than the feet".
However, over the course of Blake's relatively short career, his music has also been described as mere "warbling", "mopey" - and worse - dubstep for Coldplay fans. This criticism would have not been helped by the fact he was accidently introduced on stage as James Blunt by presenter Lauren Laverne during the ceremony.
Despite this, Blake now belongs on the same esteemed list as previous winners such as Dizzee Rascal, PJ Harvey and Primal Scream.
"I feel like I deserved it as much as anyone else did," he told reporters backstage after the ceremony.
When asked how the prize would affect his career, he said "people might be louder" at his gigs, adding he may even "stand up on stage".
Before releasing his debut album in 2011, Blake had also released a number of well-received singles and EPs. The Bells Sketch/CMYK/Klavierwerke EPs were considered the 8th best album of 2010 by influential US music website Pitchfork Media.
In the same year he was second on the BBC Sound of 2010 list, behind Jessie J who took the top spot on the poll of artists to look out for in the coming year.
While not exactly a complete unknown - the album peaked at number eight in album charts selling moderate 27,000 copies on top of the critical success - the Mercury is sure to push him further into the public conscious and gain wider recognition.
Blake's victory for his 22-1 rank outsider album could also ease some criticism that the Mercury Awards had become too predictable and mainstream. This year's nominations featured five number one albums, more than the previous four years combined. Out of these five acts, Arctic Monkeys, David Bowie, Rudimental, Jake Bugg and Disclosure have already racked up 1.5m sales between them.
Last year's winner, Alt J's debut album An Awesome Wave, was described "an identikit Mercury winner" having being the favourite to win from the very first day the nominations were announced.