Prime Minister Shinzo Abe is set to make history by becoming the first Japanese head of state to visit Pearl Harbor, 75 years since the Second World War attack on the US Naval base in Hawaii. However, a top aide of the PM has clarified that leader will not use his visit to apologise for the 7 December 1941 attack.
Abe announced his plans to visit the memorial site towards the end of December, weeks after the 75<sup>th anniversary of the attack. He is expected to pay his respects and will be accompanied by Barack Obama.
Chief Cabinet Secretary Yoshihide Suga confirmed that the trip will take place between 26 and 27 December and clarified that it will not involve an apology from the Japanese leader.
"This visit is for the sake of consoling the souls of those who died in the war, not for the sake of an apology," Suga told reporters on 6 December.
"I think that the prime minister's visit will be an opportunity to send the message that the calamity of war must not be repeated and... express the value of reconciliation between Japan and the United States."
Abe's visit comes after Obama visited the site of the US nuclear bombing on Hiroshima earlier in May. America's August 1945 attack resulted in the death of more than 140,000 people. During his visit – the first for a sitting US President since the bombing – he did not apologise for the incident. Obama used the opportunity to stress the importance of making the world "nuclear arms-free".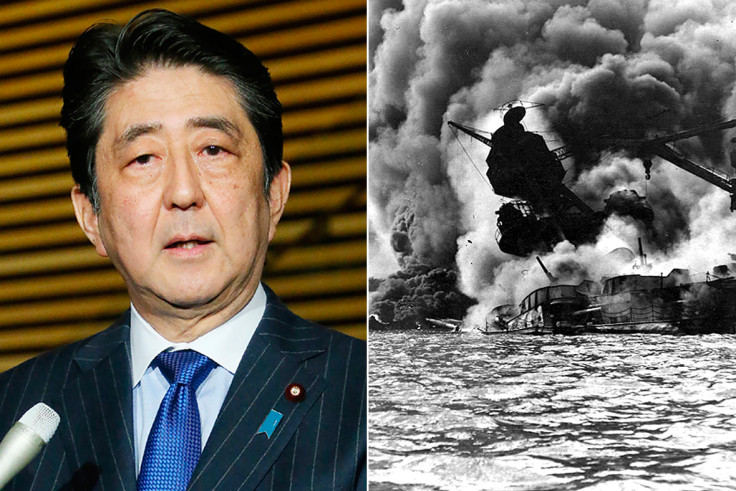 "The planning for a Pearl Harbor visit has been in the works ever since Obama visited Hiroshima. It's mostly a reciprocal gesture and symbolic of the US and Japan burying the hatchet," Columbia University emeritus professor Gerry Curtis told Reuters.
"It sends a message to China about the strength of the US-Japan relationship (and is) probably also intended to send the same message to Trump," he added.