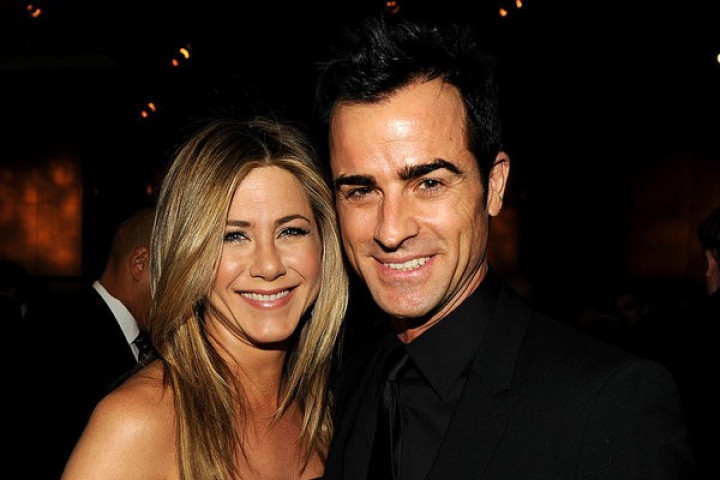 The latest celebrity couple to have come under the radar of rumour mills is none other than Jennifer Aniston and Justin Theroux as a recent report claimed that their marriage is in trouble. According to the falsely speculated tabloid report, the 47-year-old actress made an impromptu tour to Berlin to salvage her relationship, which seems to be troubled by long-distance issues.
Like the numerous rumours that have cropped up ever since Aniston's ex-husband Brad Pitt split from his wife Angelina Jolie, this talk about the Friends actress's marriage to Theroux too seems to be mere speculations. Refuting the sensational claims made by the Life & Style magazine, Gossip Cop went on to assert that the article's premise about Aniston's "crumbling" marriage is "wrong".
If the popular gossip debunking website is to be believed, neither is the A-lister duo's relationship "crumbling" nor did the Office Christmas Party star rush to Berlin – where Theroux is filming the movie Mute – to save her marriage.
The original article by Life and Style magazine made outrageous claims about Aniston and Theroux's marriage as it suggested that the actress is fed up of their "long-distance" marriage. Apparently the couple's "happy" photographs were just a show as "despite appearances, it wasn't a romantic reunion for the couple," claimed the magazine alluding to Aniston's alleged visit to Berlin.
Adding to the trouble rumours, thereport continued, "She basically hunted him down for the make-or-break talks. She's fed up with their long-distance Skype-every-other-day marriage, his refusal to settle down in LA and his choosing his career over her."
"She explained that she was tired of having an absentee husband," an alleged source told the magazine adding; "She really had it out with him during a days-long conversation. She was alternating between anger and tears."
Aniston and Theroux's relationship has been the subject of headlines in the recent past after news broke that her ex has separated from his partner of 12 years, Jolie. Before tying the knot with 45-year-old Theroux, the Mother's Day actress was married to Pitt, until the couple ended their marriage in 2005.