Jeremy Clarkson 'gagged' from mentioning spat with BBC onstage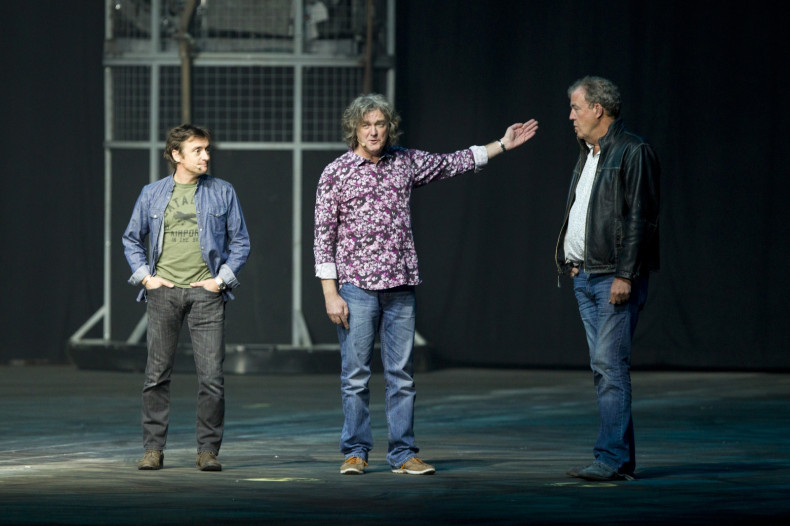 Former Top Gear presenter Jeremy Clarkson has agreed to keep quiet about his spat with the BBC so live shows can go ahead "in good spirit."
The opinionated presenter was dropped by the broadcaster after he allegedly hit and verbally abused Top Gear producer Oisin Tymon over a lack of hot food at the end of a day's filming.
Following an investigation into the "fracas," the BBC decided not to renew the presenter's contract, plunging the future of the popular motoring show – which Clarkson has presented since 2002 – into doubt.
Luckily for an estimated 100,000 fans who have booked tickets to see Top Gear Live, the tour has been rebranded and will go ahead under the new name "Clarkson, Hammond and May Live", after BBC bosses were reassured that it would not be used as a platform to air grievances.
A source told the Sunday People: "Jeremy, James and Richard agreed to the terms put to them to let the shows go ahead in a good spirit. They were ­desperate not to let the fans down.
"Part of the deal was that neither the BBC nor the Top Gear brand would be brought into disrepute.
"Effectively this meant gagging Jeremy from mentioning what had gone on. But he agreed to comply."
Clarkson, 54, will start the tour with co-hosts Richard Hammond and James May in Belfast on May 22, before travelling to Sheffield, South Africa, Australia and Norway.
The tour ends on 29 November in London's O2 arena.
The future of the show, and that of co-stars Hammond and May, remains unclear.
Although enough footage remains to produce more episodes of the show, it is unlikely to ever see the light of day.
A spokesman for BBC Worldwide, which shares the ownership rights for the live shows, said the agreement between the presenters and bosses was "a sensible approach in the circumstances".