Singer Jessica Simpson has come under fire on social media for her recent picture with children Maxwell and Ace alongside husband Eric Johnson. As controversy brewed over the Instagram post, which Simpson shared to mark her daughter Maxwell's fifth birthday, fans slammed the Texan singer's supposedly questionable parenting style.
Maxwell's outfit comprised of a shell-shaped crop-top and a sparkly skirt designed to make her look like a mermaid.
"My baby Maxwell is 5 years old today," the proud mother captioned her daughter's birthday photo. "She makes everyone's life mermaid magical. Happy Birthday to our fairytale princess. Mommy, Daddy, and Ace love you with our "holy hearts" (as Max would say)."
But little did Simpson know that the seemingly harmless mermaid photo would draw the ire of fans and trolls alike on social media.
"Am I the only one who thinks this is way over sexualized? This should not be considered normal. The poor child is imitating her mother who looks like a freakin hooker for the love of god!(sic)" an Instagram user commented, while another went on to say Maxwell looked like she's "trying out for the cover of Playboy."
A second observer wrote, "Seriously? Your daughter posing like that? In an outfit like that? With a stupid "trying to look sexy face" look .. Highly disturbing..."
As the flurry of criticism and comments continued on Simpson's profile, a fan explained in length what exactly was wrong with 5-year-old Maxwell's photograph. "If YOU think a 5 year old, dressed in a nearly bare-all costume, posing with her butt pushed out and trying to look sexy for the camera is ok .. a 5 year old!!!! then you're just as mental as she is!!" the rebuking comment read.
Not only was Simpson called out for her daughter's mermaid outfit, she was also lampooned for her choice of dress for a birthday party. Someone questioned, "Who's the party for? Your kid or your boobs? Put on some clothes.."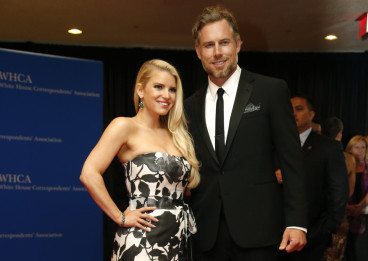 However, there were some fans who tried to justify the innocent picture from Maxwell's themed-party.
"It's very disturbing all the people who are saying this is "over-sexualized." She is a five year old girl dressing up as a mermaid," explained one user, "She looks very confident and happy. If adults are going to objectify and sexualize a 5 year old girl, that's their problem, not hers."
This is not the first time that Simpson has come under such scrutiny. In February 2016, one of Maxwell's photo drew ire for its caption that were Kelis' famous lyrics, "My milkshake brings all the boys to the yard and they're like it's better than yours..."
Then again, the Newlyweds: Nick and Jessica reality star's naive personality was honed in on during the hit '00s TV show. One episode featured Simpson eating a can of Chicken of the Sea tuna but asking husband Nick Lachey: "Is this chicken, what I have, or is this fish? I know it's tuna, but it says 'Chicken... by the Sea'".