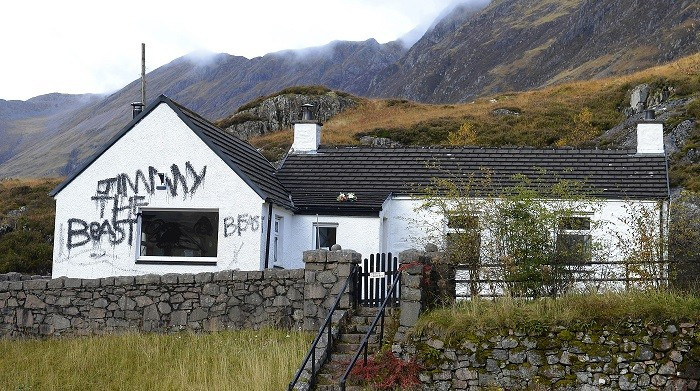 The Highlands cottage owned by disgraced TV presenter Jimmy Savile has been sold at auction for more than double its asking price.
The three-bedroom cottage in the remote area of Glencoe went to auction with an asking price of £100,000 but eventually went under the hammer for £212,000 at Ross Harper Property Auctions in Glasgow.
The cottage has been the target of vandals since the scandal of the late presenter's predatory paedophilia broke. "Jimmy the Beast" was spraypainted on the walls after sexual allegations about the late Top of the Pops presenter emerged.
Savile, who was described as one of Britain's most prolific sex offenders, bought Allt Na Reigh cottage in 1998.
Ross Harper described it as "a traditional, refurbished detached cottage in an attractive location within scenic Highland countryside".
The cottage was sold to an elderly couple who were present at the auction. It is not known if they were individual buyers or part of a group.
After Savile's death, plans to turn the property into a respite for disabled people were scrapped when the Jimmy Savile Charitable Trust closed it in the face of public anger.
There had been suggestions to demolish the cottage or turn it into a museum.
In January, a report by the Metropolitan Police and the NSPCC said there had been 214 recorded criminal offences lodged against Savile across 28 police force areas, including 34 cases of rape and 126 indecent assaults over six decades.