As the world mourns the loss of Joan Rivers, some fans are blaming her death on both Beyoncé and secretive cult the Illuminati.
Before her demise, the 81-year-old comedian and Fashion Police presenter had been on a life support machine for a week after suffering a cardiac arrest during throat surgery.
Soon after her daughter Melissa announced her death, tweets began circulating that Beyoncé, who is allegedly part of an occult secret society, was involved.
According to the conspiracy theories making the rounds online, the Flamboyant star, known for her cutting wit and strong opinions, evoked the wrath of Queen Bey, by taking a swipe at her family on Twitter.
They pointed out that it was no coincidence that she was rushed to hospital the day after slating the Drunk in Love singer and died on Beyoncé's 33rd birthday.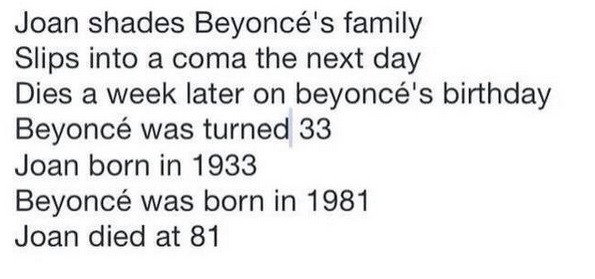 There has been speculation for years that Beyoncé and her husband Jay Z are part of the society and connected to Satanism. It was previously claimed that their daughter's name Blue Ivy originated from Eulb Yvi, which supposedly means Lucifer's daughter in Latin.
In 2010, Jay Z laughed off the rumours telling Radio personality Angie Martinez: "I don't know where it came from, I don't know where it started ... NO, not me,"
But despite her frequent digs at Beyoncé, it seems that Rivers had a soft spot for the star after all.
In her 2013 book I Hate Everyone...Starting With Me, Rivers revealed that she wanted her funeral to be a 'huge showbiz affair' and urged her daughter to make sure she was buried in a Valentino gown and had "a wind machine so that even in the casket my hair is blowing just like Beyoncé's."