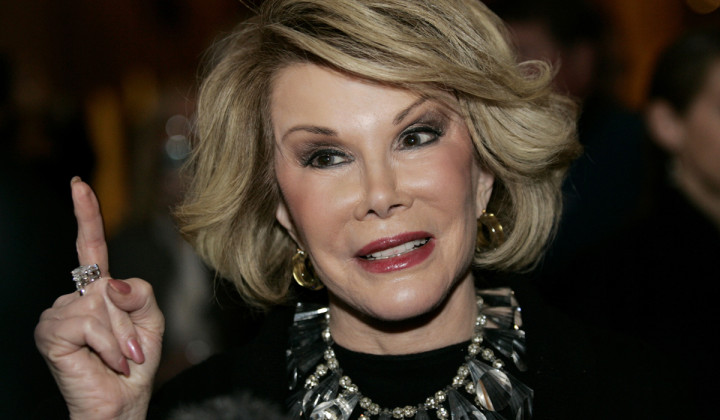 Comedian, fashion police chief and battleaxe Joan Rivers has died at the age of 81.
Her daughter Melissa announced the news yesterday saying that her mother died surrounded by close friends and family.
Rivers was on life support following a cardiac arrest suffered in New York last week during a procedure being carried out on her vocal cords.
"My mother's greatest joy in life was to make people laugh," said Melissa. "Although that is difficult to do right now, I know her final wish would be that we return to laughing soon."
Rivers will be best remembered for delivering devastating put-downs on Hollywood's red carpet, taking celebrities to task for their choice of clothes. Her sharp wit and unapologetic nature ruffled plenty of feathers during a long career, marking her one of the comedy world and the world of Hollywood's loudest, most unique voives.
On Twitter she was always game for a joke, here are some of her best tweets...
Here she is proving she was definitely more than willing to mock herself...

Justin Beiber might be an easy target, but Rivers still took potshots where she could.
Fellow teeny bopper Miley Cyrus wasn't safe either.
She had plenty to say about Beyoncé as well.
She pretty much had something to say about every pop star going.
And finally a few more for good measure.