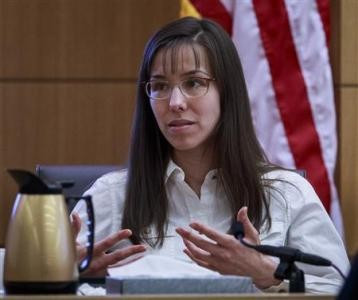 The prosecutor in the highly publicised case of Jodi Arias, who was convicted of killing her boyfriend Travis Alexander, is claiming that a juror fell in love with Arias despite the evidence against her. Juan Martinez, who is releasing a book about the controversial case in 2016, did not name the juror.
However, an alternate juror in the trial that convicted Arias claims she knows who Martinez is referring to in his new book. Tara Harris Kelley told the Daily Mail that she has "no doubt" that Martinez is referring to foreman Bill Zervakos. Kelley claimed Zervakos wanted to acquit Arias, made eye contact with the convicted killer whenever possible and bragged about being a womaniser.
"When we would go into the judge's chambers, which was once a week, he would always make eye contact with her and do the same when he left," Kelley said. She continued, "I honestly think he wanted to find her not guilty but he found her guilty. He found her guilty because he had to because of the evidence that was out there. When it came to the death penalty phase that was his way out."
According to the Daily Mail, Zevakos allegedly complained whenever Kelley would ask a question about Aria and refused to sentence Arias to the death penalty. Despite holding out on putting her on death row, Zervakos said he viewed the case from a "non-emotional point of view".
In his upcoming book, Conviction, The Untold Story of Putting Jodi Arias Behind Bars, Martinez also promises to reveal evidence that was not shown in court, ABC15 reported. This includes two knives, condoms and a 9mm handgun found in Arias's rental car when she was arrested. Martinez also claims Arias attempted to forge letters from her victim in which he "confessed" to being a pedophile.
Arias was arrested in 2008 for the murder of her former boyfriend, 30-year-old Travis Alexander. The 35-year-old repeatedly stabbed Alexander, slit his throat and shot him dead at his Mesa, Arizona home. In 2013, Arias was convicted of first degree murder and after two death penalty juries could not decide whether to put her on death row, she was sentenced to natural life in prison.
Martinez's book is the second to come out of the trial. Arias's defence attorney Kirk Nurmi also released a book called Trapped with Ms Arias earlier this year. Arias is appealing her sentence.