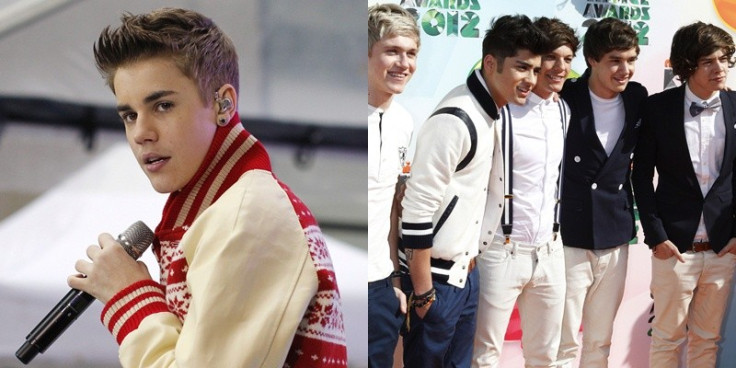 Justin Bieber and One Direction are teaming up to record a track on the British boyband's highly anticipated second album.
The 18-year-old teenage heartthrob confirmed the collaboration during a recent interview with the Daily Mirror.
He told the paper: "We were talking about me collaborating with them on a song on their next album. It's gonna be great."
The Boyfriend hitmaker also revealed that he had become very close with Niall, Harry, Louis, Zayn and Liam.
He added that he admired the group for their ability to stay grounded despite global success.
"The One Direction guys are great. We have a lot of fun whenever we hang out. They came over to my house and we were just chilling out around the pool and listening to music.
"The great thing about them is that they might be the biggest band in the world but they have stayed regular guys who are just fun to hang with," he said.
It seems that the band might have other collaborations in the pipeline, Bieber said.
"I asked them who else they would like to work with. They were, like, Rihanna, Katy Perry, Taylor Swift and Jennifer Lopez," he said.
"From what I hear they shouldn't have much trouble trying to persuade Rihanna, Katy or Taylor to work with them ... if you know what I'm saying," he added.