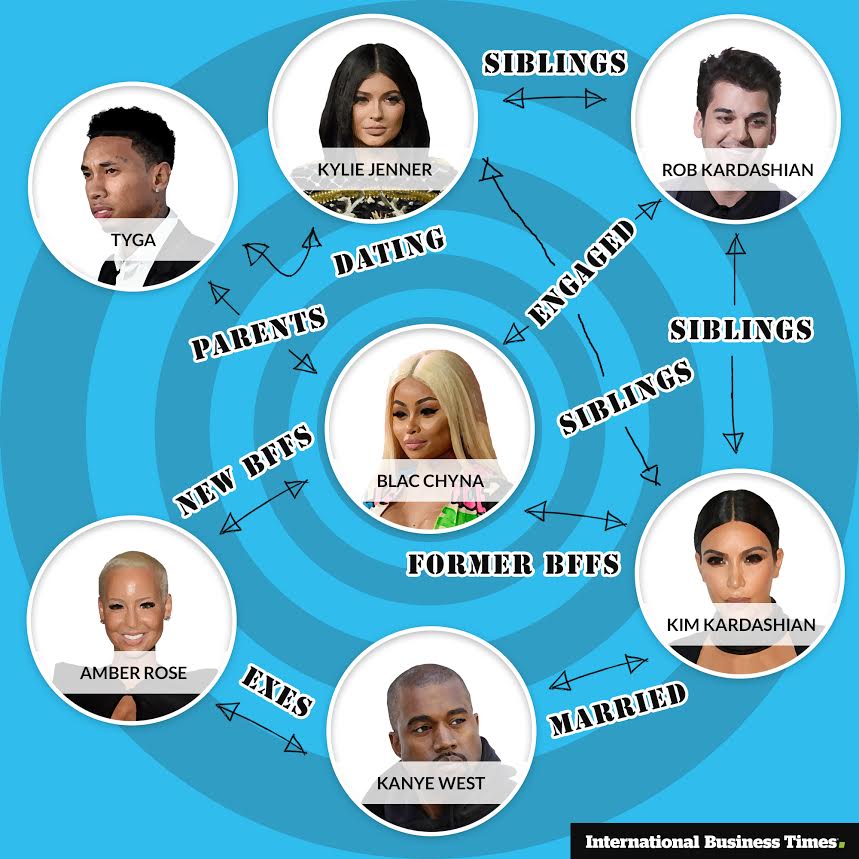 Blac Chyna and Rob Kardashian's engagement has cast the spotlight on the Kardashian family's intricate and confusing matrimonial history. From their unexpected romance to Kylie Jenner and Tyga's controversial relationship, the love lives of the Kardashians have become somewhat intertwined.
After three months of dating, Rob, 29, proposed to Chyna, 27, with a seven-carat diamond ring making their whirlwind love story official. The news is rumoured to have caused tension between Rob and his famous family who were allegedly unimpressed with him dating the former stripper. When it was revealed they were an item in January 2016, Rob's older sister Khloe Kardashian made her feelings on their romance clear, tweeting: "You can do anything. But never go against the family."
Why would Khloe be so angry about Rob and Chyna's romance? IBTimes UK explains the complicated and messy love drama between the Kardashian family and also how Tyga will be both the father and uncle to his own son.
Blac Chyna and Tyga
Long before she found love with Rob, Chyna was happily in a relationship with rapper Tyga, whom she met at the King Of Diamonds strip club in Miami in 2011. In October 2012, Chyna gave birth to their son King Cairo before Tyga, 26, popped the question two months later. However, the couple never made it to the aisle as they split sometime in the summer of 2014.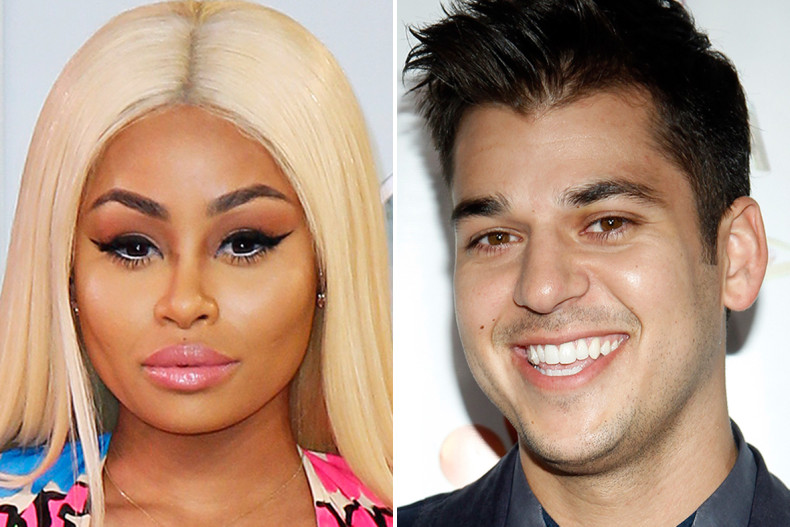 Kylie Jenner and Tyga/Amber Rose and Kanye West/Kim Kardashian and Kanye West
Not long after his split from Chyna, rumours began floating that Tyga was romantically involved with Kylie Jenner who was just 17 at the time. It was all incredibly awkward as Chyna was best friends with Kylie's older half-sister Kim Kardashian, thus causing a rift between the BFFs.
Chyna's bestie Amber Rose added fuel to the fire when she said in an interview about the Tyga and Kylie rumours: "[Kylie's] a baby, she needs to go to bed at 7 o'clock and relax. That's ridiculous. [Tyga] should be ashamed of himself. That's how I feel. For sure. He has a beautiful woman and a baby and left that for a 16-year-old who just turned 17."
The drama then spilled onto Twitter with Khloe stepping in to defend her younger sister against Rose. It also prompted Kanye West, Kim's husband who once dated Rose, to speak out against the model, saying he needed "30 showers" after dating her.
Days after Kylie turned 18 in August 2015, she and Tyga confirmed their relationship and have been inseparable since. To make the situation more complicated, Chyna and Rob's impending marriage will make Tyga both the father and uncle to his own son. Kylie and Rob will be both the stepmother, stepbrother and step-aunty and step-uncle to King Cairo, three.
Tyga has given his blessing to Rob and Chyna's engagement but the Kardashians are keeping mum on what has been a very controversial romance.