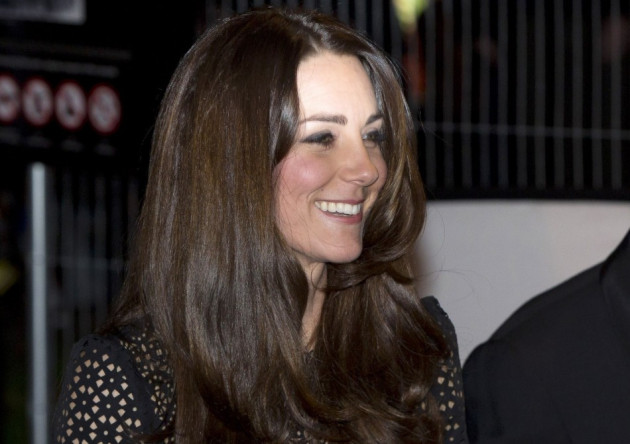 After Prince William's show-stopping stage performance with pop princess Taylor Swift and Jon Bon Jovi at the Winter White Ball yesterday, it was Kate Middleton's turn to take a night off from baby duties, as the glamourous Duchess of Cambridge attended her first London SportsBall, on behalf of SportsAid.
With characteristic elegance, the 31-year-old mum of four-month old Prince George, turned on the glamour for the annual gala charity dinner at stylish pop-up venue Supernova, in London's Embankment Gardens.
Kate showed off her slender post-baby figure in a stunning black, cut-out Temperley cocktail dress, with matching Jimmy Choo's, while clasping a contrasting red clutch purse.
On arrival, the hockey-loving Duchess was greeted by three of SportsAids rising young sporting talents, as well as Olympians Amy Williams, Dame Tanni Grey-Thompson and Anna Watkins.
The Princess will be presenting the coveted One-to-Watch Award, which honours a young British sportsman or woman, who has demonstrated an extraordinary commitment to their career.
Selected from more than 1,300 athletes who have been supported by SportsAid this year, the three shortlisted nominees for the award are 16-year-old shooter Amber Hill, 17-year-old pole vaulter Harry Coppell and 18-year-old rower Jess Leyden. Previous winners include diver Tom Daley and Team GB hockey player Harry Martin, who competed at London 2012.
Also among the Olympic and Paralympic sporting heroes attending the gala event to honour the next generation of British athletes are retired British swimmer Mark Foster, Olympic gold medalist Sharron Davies, javelin throwing champion Steve Backley and Mary Peters, who won gold in the pentathlon at the 1972 summer Olympics in Munich.
As well as sporting legends, the charity dinner attracted support from Virgin tycoon Richard Branson's son Sam Branson and his wife, Isabella, who is the half-sister of Prince Harry's girlfriend, Cressida Bonas.
The evening will culminate in a live auction of unique sporting experiences and memorabilia, including a box for ten at Royal Ascot and a signed photograph of Wimbledon Champion Andy Murray.
The SportsBall is an annual fundraising event for SportsAid, which supports and celebrates the careers of aspiring British atheletes. The Duchess of Cambridge was announced as the charity's patron in April this year.
The SportsBall will focus attention on the 2014 Winter Olympic and Paralympic Games in Sochi, while anticpating the Rio Olympics in 2016.
Find out more about the charity at www.sportsball.org.uk/