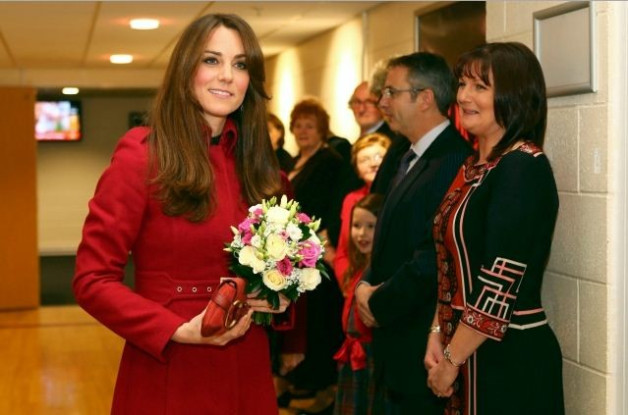 The Duke and Duchess of Cambridge attended the Autumn International rugby union test between Wales and New Zealand, at the Millennium Stadium in Cardiff, on Saturday 24 November. Catherine Middleton, the Duchess of Cambridge, looked as elegant as ever, in a claret-red LK Bennett coat and Prince William dressed to match, with a red striped tie. The Duchess's coat was the same one she wore to a UNICEF event in Copenhagen, Denmark, in November last year.
The Duke and Duchess met beneficiaries of the Welsh Rugby Charitable Trust (WRCT), which supports injured players; William was Vice Patron of the Welsh Rugby Union (WRU) and became Patron of the Trust in June.
An opening note on the website of the WRCT reads: "The Trust was set up in 1972 as an organisation with a range of education, social and sporting objectives. The main aim of the charity however has always been to support those players and their families who have been severely injured whilst playing rugby football in Wales."
The Trust's secretary, Edward Jones, said the visit was "a source of encouragement and inspiration to all those connected with the Welsh Rugby Charitable Trust, both players and trustees alike".
"We are delighted that HRH the Duke of Cambridge has agreed to be patron of the trust and, in so doing, support the work of providing and caring for those who have suffered serious injury on the rugby field in Wales," Jones added.
"I think people now see the person and not the chair, and that is down to the brilliant work of the small, dedicated team of supporters with the trust," Paul Davies, an ex-rubgy union player injured at 21, said.
"I got the impression that both William and Kate were here for the trust, not just the match. It was a real pleasure for us to talk with them, and I think they felt it was a pleasure for them to talk with us too," Davies, who has worked with the trust since his injury, added.
Unfortunately, the royal couple's presence did not bring Wales luck. The home team lost 10-33 to the All Blacks, with three tries in 50 minutes giving the visitors an insurmountable 0-33 lead.
Below is a selection of photographs of Kate Middleton and Prince Williams, at the Millennium Stadium in Cardiff, Wales.