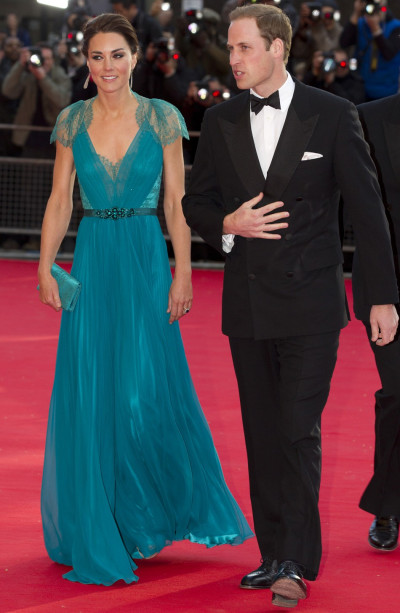 Kate Middleton and Prince William attended the London Olympic concert on 10 May at the Royal Albert Hall. The event was titled "Our Greatest Team Rises", which was held to mark the final countdown of the London Olympic Games.
"Kate opted for an intricate chignon. The elegant knotted bun, put in place by a team from the Richard Ward salon in Chelsea, showed off the elaborate design of her teal Jenny Packham dress to full effect. The tiny gems in the delicate lace across her back and shoulders shimmered as she arrived at a gala. While the bun was a departure from her usual style, Kate opted for the same £450 'Vamp' sandals from Jimmy Choo that she wore earlier in the week - and even appeared to be sporting the same crimson pedicure," the Daily Mail reported.
Along with 67 athletes selected to compete for the event, Olympic legends of the yesteryears as well as the present walked the red carpet with Kate and William. Synchronised swimmers Olivia Federici and Jenna Randall, paralympian Nyree, swimmer Sacha Kindred, Lord Colin Moynihan and his wife Lady Gaynor, skeleton bob heroine, Amy Williams MBE and hurdler Colin Jackson CBE, Sir Steve Redgrave, Jayne Torvill and Denise Lewis OBE were among those who attended the event.
Prince William addressed the guests who numbered over 3,000.
"Naturally, I was asked to compete for TeamGB in every sport, but sadly Lord Coe said there were London pigeons with more athletic prowess than me. Anyway to adapt a famous phrase from Sir Steve Regrave, if you see me in a pair of Speedos during the Olympics, shoot me! These games remind us of the power of the human spirit and human endeavour. You, our Olympians and Paralympians, will inspire people up and down this country, and far beyond its borders. ‪For the athletes of Our Greatest Team, these Games mark the pinnacle of your sporting careers.
I can only imagine it... competing at home, in front of your countrymen and women, with the eyes of the entire world upon you. A dream come true.‪ For all of us mere mortals - and I include my brother, Harry, still droning on about beating Usain...it never counted as it was a false start...this is a lifetime opportunity. We will witness an exceptional moment in our Island History. The mood in London will be electric, ecstatic, amazing. I just can't simply wait. I mean I have got a few mates who have drunk in the Duke of Cambridge but I have never stood next to one. It's wonderful they're ambassadors for Team GB. They bring a lot of attention. It's a real inspiration for the athletes to know that they have them and the country behind them," William said.