The Duke and Duchess of Cambridge returned to Anglesey to attend a ceremony marking the end of RAF Search and Rescue (SAR) Force operations. Kate and William lived in a cottage on Anglesey for three years at the beginning of their marriage, where the pair was able to enjoy a degree of privacy in the Welsh countryside.
During his time at RAF Valley, The Duke undertook a total of 156 search and rescue operations, rescuing 149 people. The prince left the force in September 2013 after the couple's son George was born before joining the East Anglia air ambulance service a year later.
Arriving on the base by helicopter, the royal couple watched a disbandment parade in the RAF Valley hanger, which formally commemorated the end of 75 years of service. After the parade, William and Kate were joined by his former colleagues at a drinks reception. Wearing a recycled a £345 LK Bennett coat, the Duchess, chatted animatedly with the workers.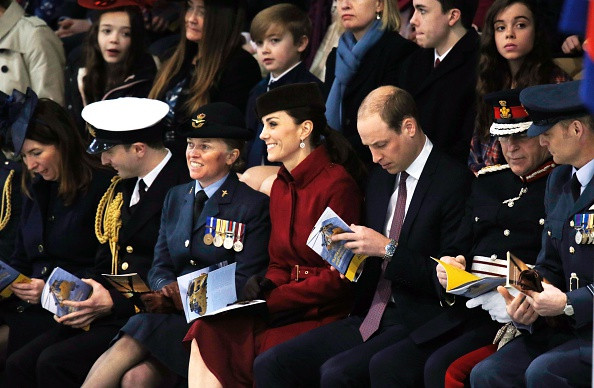 Former Flight Sergeant Rob Linfoot, who worked with the prince from 2012-2013, revealed that William was very much one of the team and was often pranked by the RAF crew. He recalled how they gave William a tea towel with his and Kate's face on to do the washing up. "He was so much fun and really down to earth when you were on shift," he said. "I think people went above and beyond and got him a few extra bits and pieces. Always nice to have a bit of memorabilia around the room."
Former winchman instructor Master Aircrew Rik Maving, 55, admitted to having fun at the Prince's expense. "I rib everybody. It doesn't matter who you are, you'll get it with both barrels," he joked. "'It was nice to see him again. He hasn't changed much apart from he's lost a bit more hair. Hey, we're all getting older!" he added.
The royal couple fondly reminisced about their time spent Anglesey. Chatting to Group Captain Steve Bentley and his wife Fyona, Kate said: "It was such a special time for us. It was the start of our life together really."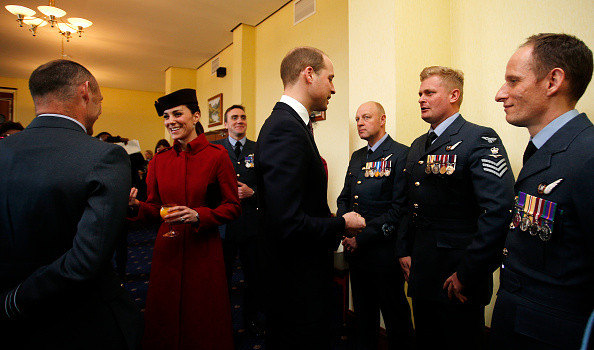 Group Captain Bentley who worked with William said: "I was here as the squadron commander when the Duke of Cambridge arrived in 2010. It was lovely to meet him again. He was very much part of the squadron, part of life here. He said they enjoyed coming here and seeing Anglesey again. For everyone it's a little bit bitter-sweet. We enjoyed the role so much, though we recognise it's now someone else's turn to do it.'
Meanwhile, William's former Squadron Commander, Wing Commander Sparky Dunlop, praised William for his dedication to his role as a Search and Rescue pilot. "He was not only up to doing it but he did more than that. When he was serving with us he was a very good pilot," he said. "I did his operational captaincy check, when you jump from co-pilot to captain, and he was given a very tough check and he more than rose to the occasion.
"He would come on shift and do all the duties associated with going on shift. He would live and work with his crew, go on rescues with his crew, eat with his crew. He was just another one of the guys. He is one of the family and we wanted as many of the family to come back today and say goodbye."
Speaking about today's celebrations, RAF SAR Force Commander Group Captain Steve Bentley told Mail Online: "The parade provides a chance for us to reflect on the achievements of the RAF Search and Rescue Force in the UK. Not only has the Force contributed to saving many lives, but the pioneering work of the RAF SAR Force... developed many of the life-saving techniques which are in use today by others around the world."
Since official records began on January 1983 the force has attended 34,122 call outs and assisted 26,916 people. The service has been privatised and is now operated by civilian company Bristow Helicopters after it was awarded a contract by the Department for Transport in 2013.
The visit comes a day after the Duchess took over as guest editor of The Huffington Post as operations were shifted to Buckingham Palace. The 34-year-old took on the new role as part of the Young Minds Matter campaign, designed to raise awareness for children's mental health issues.