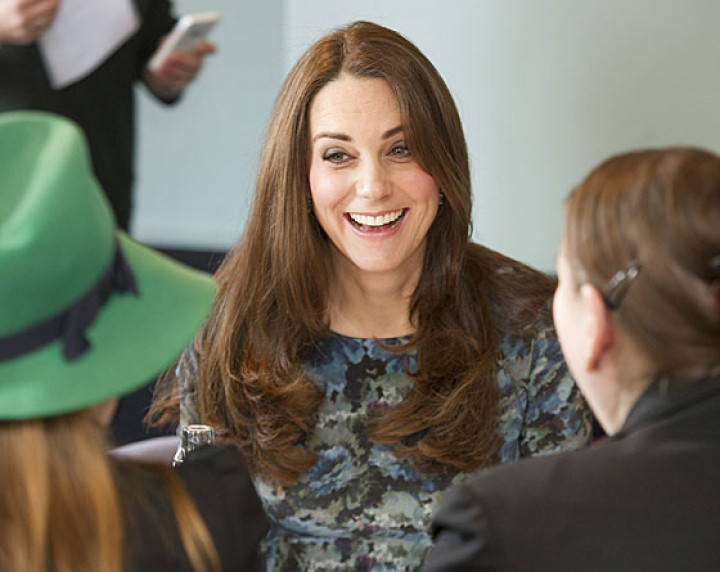 Kate Middleton has revealed that her second baby, due in three months, is "moving a lot".
The Duchess of Cambridge said that she could feel the baby kicking during an official engagement in Kensington.
"It's moving all the time. I can feel it kicking now," the 33-year-old Kate told a well wisher, Martina McDonagh, according to People.com.
Martina said Kate held her baby bump, which has started showing, while she talked about the baby's kick.
"I told her I hoped it was a girl but she said she doesn't know yet. She said it was moving around a lot," Martina told reporters.
Six months pregnant with the future heir, Kate Middleton officially opened Kensington Leisure Centre, which is built on the site of a 1970s pool where Princes William and Harry learned to swim.
The Duchess hoped that Prince George could learn swimming at the same pool too.
"The Duchess was talking about Prince William learning to swim here and she said she hoped Prince George can come here to learn too," Tim Ahern, Kensington and Chelsea Council's cabinet member for environment and leisure, said.
Meanwhile, Kate is said to be spending a lot of quality time with her first-born, 18-month-old George.
According to recent reports, spending one-on-one time with George is the priority for Kate as her due date nears.
The Duchess is taking her son to most of the places she can. George accompanied his parents to the Queen's annual Christmas dinner and was spotted strolling at Winter Wonderland in Hyde Park along with his expectant mother.