Comedian Kathy Griffin has spoken of her fears that President Trump is intent on destroying her career after she posted a photo of herself posing with a bloodied fake Donald Trump head.
The image, which Griffin shared on Twitter, resulted in a public backlash with Donald Trump Jnr, Chelsea Clinton and the US president reacting with outrage. Potus slammed the image as "sick" and said that his 11-year-old son Barron "was having a hard time" after seeing the image of the bloodied head that resembles his father. First Lady Melania Trump called the image "very disturbing".
While the comic had earlier posted an apology video expressing her regret for the stunt and admitting she crossed a line, appearing at the press conference she was overcome with emotion as she berated the President crying: "He broke me. He broke me. He broke me."
Breaking down she said: "It's hurtful to me. There's a bunch of old white guys trying to silence me and I'm just here to say that it's wrong. I've dealt with white guys trying to keep me down my entire career," said Griffin. "I had learned over the years that sometimes when you do standup, people want a joke that's out there and a little crazy.
"I feel horrible. I have performed in war zones. Trust me, if we could redo the whole thing I'd have a blowup doll and ketchup. If you don't stand up you get run over."
Describing the shoot Griffin said she wanted to give people something to talk about. "Let's make this really obvious that I'm making an absurdist, artsy thing," said Griffin.
"For a few photos, I was holding up this wig head and we kept making the hair crazier. We just took these pictures, it was interesting. There were a few people in the house. I didn't do anything for money," adding: 'You interpret it the way you want. I am not good at being appropriate.''
Following the backlash Griffin suffered a series of professional losses. Five tour dates have been cancelled and she has lost her endorsement deal with Squatty Potty. She has also been fired from her role hosting the NYE celebrations for CNN.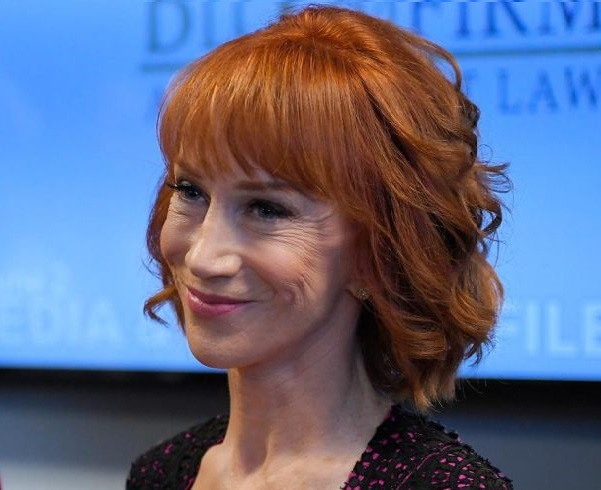 She suggested that the President's son Don Jr. had some part in her losing work. "They are using me as the shining object so no one talks about his FBI investigation," said Griffin.
She said that in the aftermath of the controversy she now wants to get back to work. "I'm not for everybody. I am barely an acquired taste frankly," she admitted. "I've had but everybody turn on me. And I just want to make people laugh."
Confirming that she has been contacted by the Secret Service and fears arrest she added defiantly, she won't stop making fun of Donald Trump. "I am not laying down for this guy. I am going to make fun of him more now."
The press conference video has been circulating widely on social media but the comedian seems to have made matters worse, with commentators claiming that the only person to blame for her predicament is Kathy Griffin.
As one critic stated: "The video of Kathy Griffin blaming everyone but herself for beheading her career is the best comedy she has ever done."
Following the press conference the hashtag #BoycottKathyGriffin has been trending.