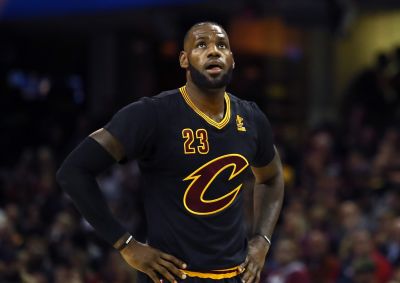 Don't you dare yell at Tristan Thompson. Because if you do so, the NBA star's girlfriend Khloe Kardashian will literally hit you. The TV star was "furious" after she saw LeBron James screaming at her boyfriend Thompson during a match between the Cleveland Cavaliers and Indiana Pacers on Sunday (2 April).
According to HollywoodLife, Kardashian wanted to set James straight after the incident. James reportedly lost his temper as Paul George scored those 16 consecutive points because Thompson wasn't blocking proper during the game.
"Tristan felt the love when Khloe Kardashian [32] became furious at LeBron after their fight on court," an insider told HollywoodLife. "Khloe wanted to call LeBron and go off to set him straight after he yelled at her man."
Kardashian reportedly thought that James should have kept the hard talk for the locker room.
"Khloe has been around enough pro basketball teams to know teammates fighting is not a good look on TV and instead something that should be kept in the locker room."
Thank God that Thompson was there to stop Kardashian from going over to James after the match and give him a scolding.
"After having a good laugh about it, Tristan calmed his angry woman down and insisted that LeBron only wants the team to win and sometimes even tight brothers get heated during games. So Khloe agreed to leave LeBron alone. But she also told Tristan that she will be kept an eye on him during playoffs because no one should disrespect her man like that in public."
After the game, James apologized for his behaviour on the court. In a post match interview, he said, "I had the right intentions in my mind, but wrong intentions came out of my mouth, so I take full responsibility for that as leader of the team." "You know, I could be a lot better and be able to keep that in-house, in the locker room, and when we're watching films," he added.
"We're family," Tristan said and added he wants everyone to "move forward".