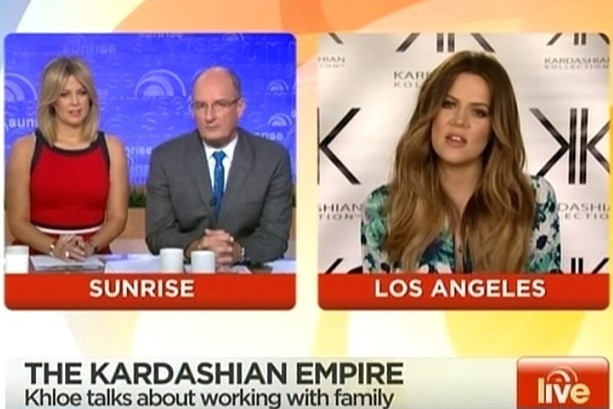 Khloe Kardashian has slated presenters of an Australian morning TV show, calling them "f**king desperate", after they questioned her about her niece North West during a television interview.
The 29-year-old reality star, who is Kim Kardashian's younger sibling, made the comments about Sunrise presenters David Koch and Samantha Armytage on Twitter minutes after the interview was cut short by her team.
"We thought it was a technical glitch but turns out @KhloEkardashian's people pulled the plug after @Sam_armytage asked about baby North," Sunrise tweeted.
A furious Kardashian quickly took to social media to deny ending the interview and accused the show of trying to stir up controversy.
"Why would I cut an interview short because of North? Get over yourself Sunrise... The call dropped... stop reaching for a story," she told her 9.5 million twitter followers. "You are so f***ing desperate!"
She later added: "Sorry KhloMoney took my phone", making reference to a knickname given to her by her sisters.
The interview had started off well when Kardashian first appeared by satellite to promote the Kardashian Kollection's new baby and lingerie lines.
But things took a turn for the worst when Armytage's line of questioning veered off to her niece, who is the daughter of Kim and rapper Kanye West.
"And I guess the baby line is inspired by nieces and nephews starting to arrive, how's baby North going?" Armytage asked.
To which Kardashian responded: "North is fabulous she's so beautiful. Penelope's obsessed with her and it's so cute to see that cousin dynamic."
The live feed was cut off instantly cut off.
In the wake of the drama, Koch accused the Keeping up with the Kardashians star of having a diva tantrum.
"[My daughter] Brie's going to be very angry with me criticising Khloe, but she's an idiot," he said live on air. "I'm sorry... I'm sorry to do that."
The shows executive producer has since confirmed that the Kardashian's team did cut the interview short.
"What happened with @khloekardashian on the show is a good lesson for publicists everywhere. Don't try to censor natural conversation," Michael Pell tweeted.
What do you think? Are you Team Khloe or Team Sunrise? Leave a comment and let us know.